Brotherhood trial halted in Egypt for second time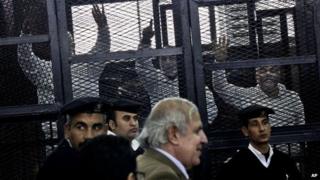 Egyptian judges have halted the trial of leaders of the Muslim Brotherhood after they disrupted proceedings.
The three-member panel referred the case to the Cairo appeals court after the defendants, including general guide Mohammed Badie, chanted: "Down with the judiciary of the military."
It is the second time judges have recused themselves from the trial.
The authorities launched a crackdown on the Brotherhood after the army ousted President Mohammed Morsi in July.
Thousands of the Islamist movement's members have been detained and almost 1,000 people were killed in clashes when troops cleared two sit-ins in the capital by people demanding Mr Morsi's reinstatement in August.
'Illegitimate'
Mr Badie, along with his deputies Khairat al-Shater and Rashad al-Bayoumi, and senior members Saad Katatni and Mohammed al-Beltagi, are charged with inciting murder and violence in connection with clashes between opposition protesters and Brotherhood supporters near their group's headquarters in Cairo on 30 June, which left nine people dead.
In October, the original judges stepped down after police failed to bring the defendants to the courtroom because it could not be secured.
The trial restarted with a new panel on Monday, but it came to a halt on Wednesday when Mr Badie led his fellow defendants in chants against the judiciary and the military-backed interim government. Mr Beltagi declared that the process was "illegitimate".
The judges responded by adjourning proceedings and asking lawyers to ensure the defendants stopped disrupting them. When they began chanting after the trial resumed, the chief judge announcing that the case would be transferred to a higher court.
"I asked the accused to remain calm but they did not do so. Therefore we are recusing ourselves," presiding judge Mustafa Salama said.
Brotherhood lawyer Mohammed al-Damati said the defendants doubted they would ever receive a fair trial, whichever court heard the case.
"The panel of judges stepped down because they didn't approve the chants repeated by the defendants," he told the Associated Press. "The chants stress that the defendants don't trust the justice system as a whole, and not a particular panel of judges."