Spanish journalists kidnapped in Syria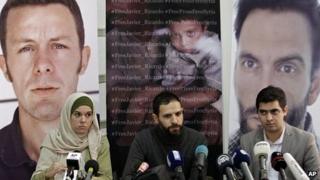 Two Spanish journalists have been kidnapped in Syria by a radical Islamist group linked to al-Qaeda.
El Mundo reporter Javier Espinosa and freelance photographer Ricardo Garcia Vilanova were seized by the Islamic State of Iraq and the Levant (ISIS).
The newspaper said they were taken at a checkpoint in northern Raqqa province near the Turkish border.
Meanwhile, Syrian activists said a leading human rights lawyer had been abducted near Damascus on Tuesday.
Razan Zaytouna was seized along with three other activists from the eastern suburb of Douma after armed men broke into the office of the Violations Documentation Centre (VDC), which monitors casualties.
The Local Co-ordination Committees (LCC), a network of opposition activists of which Ms Zaytouna is a founding member, demanded their immediate and unconditional release.
There was no claim of responsibility for the abduction, but Ms Zaytouna is reported to have recently received threats from Islamist rebel groups.
In 2011, she was given Sakharov Prize for Freedom of Thought by the European Parliament and the Anna Politkovskaya Award by the NGO Reach All Women in War for risking her life by breaking the Syrian government's media blackout to report on the crackdown on protests.
Plea to captors
El Mundo said the two journalists had been trying to leave Syria at the end of a two-week reporting mission when they were taken on 16 September.
Four members of the Free Syrian Army - the main Western-backed rebel group - who were protecting them were also captured. The four were later released.
The Spanish daily said news of the kidnapping was kept quiet while it held indirect communications with the captors, who have still not made any demands.
"Unfortunately, these gestures have yielded no result and we have concluded, the families in agreement with the newspaper, that the time has come to share our concern and indignation," El Mundo director Pedro Ramirez told a news conference in Madrid.
"We believe they are alive and we believe they are well," he said.
Hours after the newspaper announced the kidnapping, Mr Espinosa's wife spoke at an emotional news conference in Beirut, urging the journalists' captors to free them.
Monica Prieto said the pair had "travelled a dozen times to Syria to document war crimes, risking their lives, and becoming brothers with the Syrians in their fear, misery and humanitarian crisis".
"Javier and Ricardo are not your enemy. Please, honour the revolution they protected, and set them free."
The BBC's Paul Wood in Beirut says Isis assumes that all foreign journalists and aid workers are spies and has issued orders to arrest them.
The high risk of kidnapping has made rebel-held areas of Syria a black hole where few foreign journalists - or aid workers - will venture, he adds.
'Scores held'
Mr Espinosa has been a Middle East correspondent for El Mundo since 2002 and is based in Beirut.
Mr Vilanova has worked for various news outlets including the New York Times, the Washington Post and the AFP news agency.
Our correspondent says the two are believed to be in an Isis jail in the northern city of Raqqa with a number of other foreigners - and dozens, perhaps hundreds, of Syrians.
Many kidnappings have not been made public but it is thought there are between 20 and 30 aid workers and journalists currently in captivity, he adds.
The group Reporters Without Borders calls Syria the most dangerous country for journalists.
At least 25 have been killed, along with as many as 80 citizen journalists and bloggers, and many others have gone missing since the conflict began in March 2011.
More than 100,000 people have died since rebels took up arms against Syrian President Bashar al-Assad.
The conflict has displaced five million inside the country and created another two million refugees.