Egypt's Muslim Brotherhood head Badie appears in court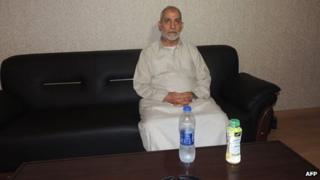 The leader of the Muslim Brotherhood in Egypt has appeared in court for the first time since his arrest in August.
Mohammed Badie was seized along with other Brotherhood figures after the Egyptian army ousted the Islamist President Mohammed Morsi in July.
Hundreds of Mr Morsi's supporters were killed in clashes following the ousting.
Mr Badie, who is the movement's General Guide, denied the Brotherhood had acted violently .
He is facing charges of inciting violence and murder over the deaths of eight anti-Brotherhood protesters outside the movement's headquarters in Cairo.
Mr Badie was in court in Cairo along with other Brotherhood figures.
He asked why the death of his son and the burning down of Brotherhood offices were not being investigated instead.
Mr Badie was a prominent figure at the Brotherhood's protest camps in Cairo, but went into hiding as the military-backed interim government increased its efforts to shut down the protests.
His 38-year-old son Ammar was killed in the protests.
In a separate case, Egyptian prosecutors referred the secular activist Alaa Abdel Fattah and 24 others for trial.
They are accused of breaking Egypt's new laws against protests by demonstrating without permission last month.
Mr Fattah was prominent in the 2011 uprising that toppled long-time authoritarian ruler Hosni Mubarak.
As Egyptian authorities increasingly crack down on protesters, both secular and Islamist, students at an Islamic university in Cairo clashed with security forces on Monday after a second day of demonstrations.
Police fired tear gas at protesters in and around Al-Azhar University, and vehicles were set alight.
It is not the first time that protests at the university have turned violent in recent weeks.