Iraq violence: Cafe car bomb kills 11 in central town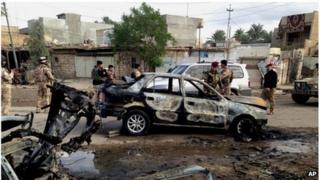 A car bomb near a cafe in central Iraq has killed at least 11 people, officials say.
More than 20 other people were injured in the attack in a Sunni Muslim area of the town of Buhriz, 60km (40 miles) north-east of the capital, Baghdad.
Militants frequently target civilians in cafes, public spaces or crowded areas, such as markets and mosques.
At least eight people were killed in four other unrelated attacks in and around the capital.
A roadside bomb exploded near a market in Baghdad's eastern Besmaya district, killing at least two people, officials said.
In a village just north of Baghdad, a car bomb killed three police officers and wounded nine others.
In the south of the capital, a roadside bomb hit a vehicle carrying Sahwa militiamen fighting al-Qaeda, killing two and injuring two others. Another blast targeted an army patrol killing one Iraqi soldier and wounding two others, reports said.
No-one has said they carried out the bombings.
Violence in Iraq this year has reached a level not seen since 2008.
The UN has said the monthly death toll dropped to 659 in November, including 565 civilians and 94 members of the Iraqi security forces, compared with 979 in October.
But more than 7,150 civilians and 950 security forces personnel have now been killed since January, the highest annual toll since 2008.