Kuwait protesters cleared over storming of parliament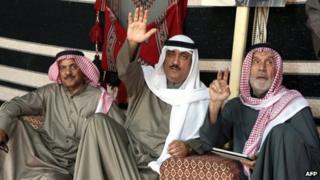 Seventy opposition activists, including nine former MPs, have been acquitted on charges relating to the storming of the Kuwaiti parliament in 2011.
Hundreds entered the building after a protest demanding that then-PM Sheikh Nasser al-Mohammad al-Sabah step down.
The ruling by judge Hisham Abdullah said "all the defendants were found not guilty".
The defendants had argued that they had no criminal intent, but were compelled to protest over alleged corruption.
Sheikh Nasser resigned two weeks after the 16 November 2011 incident.
Shortly afterwards, Kuwait's emir dissolved parliament and fresh elections were held.
Political freedoms
According to reports at the time, the demonstrators broke open the gates to the parliament building and managed to enter the main chamber, where they sang the national anthem and then left a short time later.
Kuwait's parliament is one of the few elected bodies in the Gulf.
Kuwait did not experience the kind of mass protests that toppled former Egyptian President Hosni Mubarak and Tunisia's Zine al-Abedine Ben Ali.
But opposition groups were angered by claims of corruption among Kuwait's leadership and perceived attempts to roll back political freedoms.
'Major victory'
The BBC's Sumaya Bakhsh in Kuwait City says the Kuwaiti opposition has been celebrating what it considers a major victory following Monday's verdict.
Many activists and opposition figures have taken to social media to voice their open criticism of MPs, lawyers and other prominent figures who had condemned the activists accused of storming the parliament.
Members of the opposition have already begun to voice renewed calls for political reforms in the wake of the verdict and are now regrouping to continue their pursuit of a fully functioning democracy in Kuwait, our correspondent says.