Egypt stops Morsi prison visits over 'incitement' messages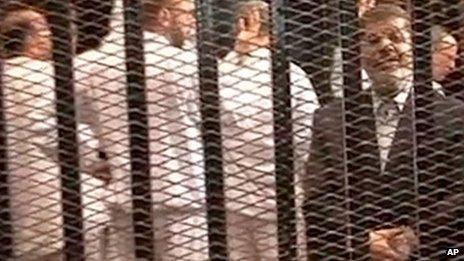 Egypt's interior ministry says it will no longer allow visits to Mohammed Morsi, who has been detained since being deposed as president in July.
Ministry spokesman Col Gamal Mokhtar said Mr Morsi had delivered messages "inciting violence" to a team of lawyers after a meeting in November.
On Thursday, one of Mr Morsi's sons revealed his most recent request to visit his father had been turned down.
Osama Morsi also said he had been moved from Alexandria's Burj al-Arab prison.
The ousted president is one of thousands of Muslim Brotherhood members to have been detained in a crackdown the interim authorities have portrayed as a struggle against terrorism.
Hundreds of people have also been killed in clashes with security forces.
Mr Morsi was moved to a regular prison last month after he went on trial on charges of inciting murder and violence in connection with clashes between his supporters and opposition protesters outside the Ittihadiya presidential palace in Cairo in December 2012.
At a meeting with a team of lawyers from the Brotherhood and other allied groups on 12 November, he dictated a "message to the Egyptian people".
He warned that the country would not regain its stability until "the military coup is eliminated and those responsible for shedding Egyptians' blood are held accountable".
On Friday, the al-Yawm al-Sabi newspaper quoted the Deputy Interior Minister, Maj Gen Mohammed Ratib, as saying that Osama Morsi and one of the ousted president's lawyers, Ali Kamal, had been turned away this week.
He is reported as justifying the move on the grounds that "the law authorises banning visits to inmates if there are security reasons or information that their lives are in danger".
It is not clear if the ban is indefinite, with one source telling al-Yawm al-Sabi that it would last a month.
But Mr Kamal told the paper he suspected the real reason visits were being denied was that Mr Morsi had been moved from Burj al-Arab prison to an undisclosed location.
Mr Morsi's incitement trial has been adjourned until 8 January, but he will go on trial on 23 December on separate fraud charges connected with the Muslim Brotherhood's economic and social programme for Egypt's recovery, called Renaissance (al-Nahda).