Saudis behind blasts at Iran embassy, Hezbollah says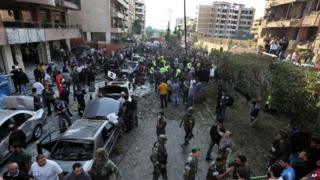 The head of the Lebanese Shia militant group Hezbollah has said Saudi Arabia was behind last month's bombings outside the Iranian embassy in Beirut.
Hassan Nasrallah told Lebanon's OTV television the attack was linked to the Saudi intelligence services.
The Sunni jihadist group Abdullah Azzam Brigades said it was behind the double suicide bombing which killed 25 people.
Hezbollah and its backer Iran support Syrian President Bashar al-Assad, while Sunni Saudi Arabia backs rebel groups.
In the interview, Hassan Nasrallah said the Abdullah Azzam Brigades, the al-Qaeda-linked group, "has an emir and he is Saudi".
He said he believed that the group was "linked to the Saudi intelligence services".
The Hezbollah head added that the blasts near the embassy, which is located in Hezbollah's stronghold in Beirut, were "linked to Saudi Arabia's rage against Iran over its failure" in Syria.
Saudi Arabia, which condemned the bombings, has so far made no comments on Hassan Nasrallah's claim.
Among those who died the blasts in Beirut on 19 November was Iranian cultural attache Sheikh Ibahim Ansari. More than 140 people were injured.
The Abdullah Azzam Brigades described the attack as a "double martyrdom operation carried out by two heroes from the heroic Sunnis of Lebanon".
The bombings were condemned by the United Nations Security Council, and the US described them as "senseless and despicable".
The conflict in Syria has increased sectarian tensions in its smaller neighbour.
Lebanese Sunni Muslim fighters have joined forces with the mainly Sunni rebels in Syria. Some of the rebel groups are affiliated with al-Qaeda.
Syria's President Assad comes from the Alawite sect, a heterodox offshoot of Shia Islam.