Iraq attacks including bomb at Tarmiya leave 20 dead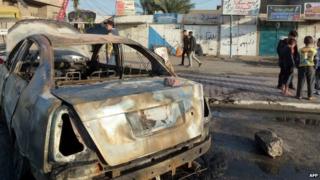 At least 20 people have been killed in violence across Iraq, officials say.
Ten people, including six police, died in a suicide bomb and mortar attack on a government compound in Tarmiya, a town 50km (30 miles) north of Baghdad.
In the capital itself, a car bomb exploded in the mainly Shia western district of Baiyaa, killing five people. Two others died in a bombing in the nearby Sunni suburb of Abu Ghraib.
Sectarian violence has surged across the country in recent months.
The UN has said the overall death toll dropped to 659 in November, including 565 civilians and 94 members of the Iraqi security forces, compared with 979 in October.
However, more than 7,150 civilians and 950 security forces personnel have now been killed since January, the highest annual toll since 2008.
Announcing the figures on Sunday, the UN special representative for Iraq, Nickolay Mladenov, said he was "profoundly disturbed" by a recent surge in execution-style killings that had been carried out in a "particularly horrendous and unspeakable manner".
Last week, police found the bodies of 31 men, women and children who had been shot in the head in three separate places around Baghdad. Many suspect Shia militiamen of reprisals in the wake of ongoing attacks by Sunni militants linked to al-Qaeda.
The UN has called on Iraq's political leaders to co-operate to end the bloodshed, which has escalated since an army raid on a Sunni Arab anti-government protest camp in April 2013.
The protesters had called for the resignation of Shia Prime Minister Nouri Maliki, who they accused of targeting the minority Sunni community.
The government has made some concessions in an effort to placate Sunnis, including freeing some prisoners and raising the salaries of Sahwa militiamen fighting al-Qaeda, but the violence has not abated.