Syria crisis: Deadly bomb blast in central Damascus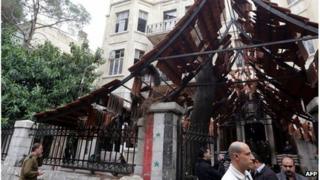 A bomb blast in the centre of the Syrian capital, Damascus, has killed at least four people, according to reports.
Syrian state news agency Sana said a suicide bomber had blown himself up in al-Jisr al-Abyad district.
The UK-based Syrian Observatory for Human Rights (SOHR) said the target of the explosion appeared to be a government building.
At least 17 people were injured in the blast, state news agency Sana reported.
Rami Abdulrahman, director of the SOHR, was quoted by Reuters as saying the office was an administrative site used by relatives of dead soldiers, and that it was not a military facility.
Increasing violence
Meanwhile, it is unclear whether opposition fighters have abducted or evacuated 12 nuns from the ancient Christian town of Maaloula.
Syrian rebels captured large parts of Maaloula, about 60 km (40 miles) north-east of the capital, on Monday after three days of fighting.
"They forced the sisters to evacuate and to follow them... At this moment we cannot say if this is a kidnapping or an evacuation," the Vatican's ambassador to Syria, Mario Zenari, told Reuters news agency by telephone from Damascus.
Damascus is experiencing increasing violence as clashes between government forces and rebels in the suburbs intensify.
At least 15 people were killed and more than 30 were wounded in a suicide bomb attack at a bus station in the western Soumariya district of the capital last week, state media and activists said.
The UN says more than 100,000 people have been killed since the uprising against President Bashar al-Assad began in 2011.
More than 2.2 million Syrians have fled to neighbouring countries, while an estimated 4.25 million have been displaced internally.