Egypt blogger Alaa Abdul Fattah arrested over protest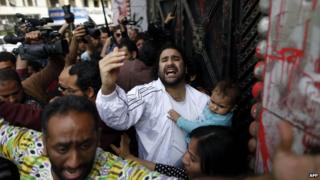 Police in Egypt have arrested a prominent activist accused of calling for protests in defiance of a new law restricting demonstrations.
The blogger Alaa Abdul Fattah took part in a rally outside the upper house of parliament on Tuesday.
Protesters were calling for the repeal of a new law that bans unauthorised demonstrations.
Mr Abdul Fattah played a leading role in the 2011 revolt against Hosni Mubarak.
The pro-democracy campaigner was previously detained under Mr Mubarak's government and questioned over demonstrations against the Muslim Brotherhood earlier this year.
Wife 'beaten'
His family said he was arrested on Thursday night at his home in Cairo.
His father, prominent lawyer Ahmed Seif al-Islam, told the Associated Press news agency that his son's wife was beaten during the raid and that laptop computers were removed from the house.
Egypt's new legislation, signed by the interim President Adly Mansour, bans protests that do not have prior police notification.
Activists say the new law appears stricter than those in place during the rule of Mr Mubarak, who was forced to step down in 2011 after mass protests.
Prosecutors announced on Wednesday that arrest warrants had been issued for Mr Abdul Fattah along with Ahmed Maher, head of the 6 April youth movement.
They said investigations showed the pair had "incited" people to "violate the protest law" by demonstrating outside the Shura Council building.
Mr Abdul Fattah said he did not deny the charge.
"It's an honour to hold responsibility for people's rallies in defiance to legalising the return of the rule of Hosni Mubarak, the long-time president ousted in Egypt's 2011 revolution," he said.
His arrest triggered flurry of reaction on Egyptian social media, drawing both calls for his release and expressions of support for his arrest.
Another 24 activists detained at the protest were remanded in custody for four days on suspicion of various charges.
Critics say the new law effectively replaces the recently expired state of emergency that was declared in mid-August, after hundreds of people were killed when security forces cleared two sit-ins in Cairo by supporters of ousted President Mohammed Morsi.
On Wednesday, 21 female Islamist protesters, some of them young teenagers, were jailed for 11 years after being arrested last month at a demonstration in support of ousted President Mohammed Morsi.
The sentences have been condemned by human rights groups.
The harsh verdict has heightened concerns about a growing authoritarianism, says the BBC's Orla Guerin in Cairo.
Activists say the authorities are making a heavy-handed attempt to turn back the clock, our correspondent says.