Dubai holding US man over spoof video, activists say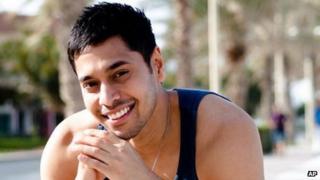 A rights group says a US man is being held in a maximum security prison in UAE accused of endangering national security after posting a parody video about youth culture in Dubai.
Shezanne Cassim, a consultant, is the first foreign national to be charged under a 2012 cybercrimes law, says the Emirates Centre for Human Rights.
Mr Cassim has been held since April without a trial date, says the centre.
It says the law has also been used to prosecute local political activists.
A number of other foreign nationals who took part in the video have also been detained, says the London-based Emirates Centre for Human Rights.
Shezanne Cassim, 29, moved to Dubai in 2006 after graduating from the University of Minnesota, and later became a business consultant in the aviation division of PricewaterhouseCoopers, said his brother Shervon.
An American citizen, born in Sri Lanka, he was arrested in April 2013 and had his passport seized by the authorities in Dubai, says the Emirates Centre for Human Rights.
The centre say the charges against Mr Cassim include violation of Article 28 of the cybercrimes law, which provides for imprisonment and a fine of up to 1m dirhams ($272,000) for anyone who uses information technology to publish caricatures that are "liable to endanger state security and its higher interests or infringe on public order".
'Silly video'
The 19-minute video, entitled Satwa Combat School, was posted on YouTube on 12 October, 2012.
It opens with the explanatory text: "The following events are fictional and no offence was intended to the people of Satwa or UAE."
Set in the Satwa district of Dubai, the video is a mock documentary about the Satwa Combat School, a fictional establishment in which students are taught to throw sandals as a form of weapon, and seek aid through the social media when in need of back-up.
In a statement, Mr Cassim's family said it poked fun at teenagers in Dubai who styled themselves as "gangstas" but were more known for their mild behaviour.
Shezanne Cassim had been refused bail on several occasions, said his family, adding that he was due to return to court on 16 December.
The director of the Emirates Centre for Human Rights, Rori Donaghy, said the charges against Shezanne Cassim had "worrying implications".
"Expatriates will be concerned that if they make a joke about life in Dubai that they could end up in prison like Cassim," he said.
"Cassim has been thrown in prison for posting a silly video on YouTube and authorities must immediately release him as he has clearly not endangered state security in any way."
The Emirates Centre for Human Rights said the case "raised a number of concerns about free expression in the United Arab Emirates", including the fact that a law passed in November 2012 was being used retrospectively.
The authorities in the United Arab Emirates have not commented on the case so far.