Syria government confirms Geneva peace talks attendance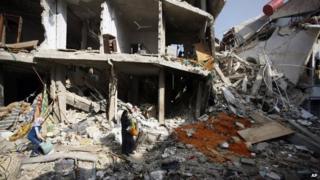 The Syrian government has confirmed it will attend peace talks planned for January, but says it is not going in order to negotiate a handover of power.
Its delegation to the talks in Geneva will receive direction from President Bashar al-Assad, official media report.
It dismissed the opposition's key demand that Mr Assad play no role in any transitional period.
More than 100,000 people have died since protests against Mr Assad erupted in March 2011.
Almost nine million others have been driven from their homes, around two-fifths of Syria's pre-war population.
Turkey and Iran - who back opposing sides in the conflict - have united in calls for a ceasefire ahead of the 22 January talks known as Geneva II, Iranian media reports.
Speaking at a joint news conference in Tehran, Iranian Foreign Minister Mohammad Javad Zarif and his Turkish counterpart, Ahmad Davutoglu, said every effort should be made stop the fighting as soon as possible, Mehr news agency says.
"Iran and Turkey have similar standpoints on several issues, including that there is no military solution to the Syrian crisis," said Mr Zarif. Iran, which backs the Assad government, has already said it will attend Geneva II if invited.
Opposition conditions
The Syrian foreign ministry said its delegation to the talks would pursue "the Syrian people's demands, first and foremost eliminating terrorism". Officials routinely refer to all opposition in these terms.
Referring to comments by Western and some Arab foreign ministers, who support a move away from Mr Assad's regime, the Syrian foreign ministry said: "They need... to wake up from their dreams.
"If they insisted on these delusions, there is no need for them to attend," branding the UK and France's position a throwback to "the era of colonialism".
"Our people won't allow anybody whomsoever to steal their exclusive right to determining their future and leadership," it said.
The attitudes that the government has announced are clearly designed to put off the opposition, which is in disarray over whether to attend, the BBC's Jim Muir reports form Beirut.
The uncompromising statement certainly will not encourage the opposition to take the plunge, especially as the regime is politically, diplomatically and militarily in a stronger position than it has been for a long time, our correspondent adds.
The UN, US and Russia have been trying for months to get both sides to agree a political solution to the conflict.
Earlier this week, UN Secretary General Ban Ki-moon said Syria's government and opposition would both attend the talks.
The UN special envoy to Syria, Lakhdar Brahimi, said a full list of participants was yet to be established, adding that Iran and Saudi Arabia were "possible participants".
Hopes of a breakthrough in Geneva were raised after world powers agreed a deal with Iran on Sunday over its controversial nuclear programme.
Mr Ban said he expected representatives of both sides to come "with a clear understanding" that the goal of the talks was the full implementation of the Geneva Communique, issued after a meeting of the UN-backed Action Group for Syria in the Swiss city in June 2012.
He reiterated that the peace talks would seek to establish a transitional government with full executive powers - as envisaged in the Geneva Communique.
Earlier this month, the main opposition alliance, the National Coalition, agreed to attend Geneva II if a number of conditions were met.
The coalition's leader, Ahmed Jarba, also stressed that the president would "have no role in the transitional period".
Relief agencies would have to be given access to besieged areas and all detainees, particularly women and children, had to be freed, Mr Jarba said.