Palestinian militants killed in Israeli West Bank raid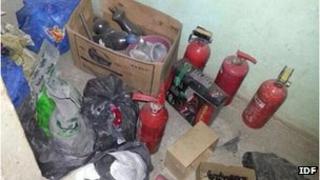 Israeli security forces have killed three Palestinian militants in the West Bank, Israeli security officials say.
Two of the militants were killed in a shoot-out when security forces tried to arrest them, near Hebron, a domestic intelligence official said.
Explosives and guns were found in their vehicle, police said. A third militant who had reportedly been with the pair was killed in a later gun battle.
Officials said the cell had planned a series of attacks in the coming days.
Both Israel and the Palestinian Authority were among their targets, Israel's Shin Bet intelligence service said, according to the AFP news agency.
Shin Bet said the men belonged to a Salafist jihadist network that was operating in the area.
Salafist jihadists - ultra-conservative Islamists who espouse violence to realise their political objectives - are active in the Gaza Strip and to a lesser extent in the West Bank.