Iraq violence: Deadly blasts hit Baghdad and Mosul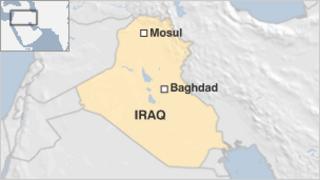 At least 27 people have been killed and dozens injured in a spate of bomb attacks across Iraq, officials say.
In the deadliest attack, 16 people were killed by twin blasts near a cafe at an outdoor market in the central Sadriya district of the capital, Baghdad.
Elsewhere, three civilians and a policeman died when a bomb exploded in a crowded street in the northern city of Mosul.
Sectarian violence has surged across the country in recent months.
The UN says 979 people - including 158 police and 127 military personnel - were killed in violent attacks in October. More than 6,500 civilians have died since January, the highest annual toll since 2008.
The Iraqi government has blamed Sunni militants linked to al-Qaeda for the violence, which has mainly targeted Shia civilians.
France offers help
In other attacks on Monday, three policemen and a civilian were killed when a suicide bomber rammed his explosive-laden car into a police checkpoint in the south of the capital.
A pro-government Sunni militiaman was also killed in a roadside bombing in the north-eastern suburb of Husseiniya, and a justice ministry employee was shot dead in the city's western Baiyaa district.
On Monday, the French ambassador to Iraq, Denys Gauer, offered weapons, training and intelligence co-operation to help Prime Minister Nouri Maliki curb the bloodshed.
But diplomats say Mr Maliki has not done enough to address the causes of the unrest, which was sparked by an army raid on a Sunni Arab anti-government protest camp in April.
The protesters had called for the resignation of Mr Maliki, a Shia, and accused the authorities of targeting the minority Sunni community.
Officials fear militants will try to further destabilise Iraq before the parliamentary elections on 30 April, when Mr Maliki will seek a third term.