Iranians welcome nuclear deal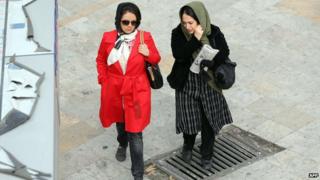 Iranians woke up to a different type of day on Sunday.
The tough 10-year nuclear negotiations had resulted in an agreement being reached while they slept.
Many newspapers published a second edition to reflect the news. Almost all pro-government papers led with a "Big Agreement in Geneva" headline.
Many Iranians had heard the news from radio and TV. But they were worried how this agreement will be dealt with inside the country.
To many people the main effect of this agreement will be economic in nature. They know that not only are no more sanctions going to be imposed on Iran, but also the current sanctions will be relieved.
'Happy'
"I am happy for our children, for the next generation," said 54-year-old Mohammad.
He praised the Foreign Minister, Javad Zarif, and President Hassan Rouhani for solving "a torturous problem in less than a hundred days".
"From now on I am sure they can cope with our economic problems, too. That's why I am happy for my children who can live in a better situation."
Iran's state TV repeated the letters of congratulations exchanged between President Rouhani and Iran's Supreme Leader, followed by many vox-pops showing people congratulating Mr Zarif and Mr Rouhani.
Ayatollah Hashemi Rafsanjani, the closest political figure to Mr Rouhani said: "The strong support made by the Supreme Leader helped the negotiating team to express themselves freely in Geneva talks leading to a breakthrough."
'Turning point'
"The nuclear deal in Geneva is a turning point in the history of the Islamic Republic of Iran," said Sadeq Ziba Kalam, a university professor close to Iran's president.
Tehran's stock exchange immediately reacted positively to the deal. And the rial started to strengthen against the US dollar. Moreover shares of industries that were hit hard by the sanctions, such as the petrochemical and auto industry, made the most gains.
The managing director of Iran's biggest car factory said on Sunday that 30% of the industry's problems would be solved after the nuclear deal.
Of course there is a long road ahead - but this is a very good start for the new government which promised to ease people's lives in 100 days.