Syria government air strikes kill dozens in Aleppo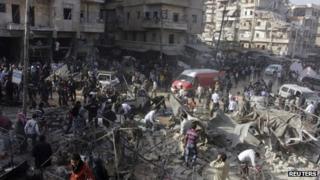 Syrian government air strikes have killed at least 40 people in and around the city of Aleppo, activists say.
In one attack, warplanes are reported to have targeted rebel positions in Aleppo itself, but missed and hit a vegetable market instead, killing 15.
State TV said fighter aircraft targeted "gatherings of terrorists" in the city, killing many.
There are also reports that the government's reconciliation minister has survived an assassination attempt.
There were several deadly airstrikes on Saturday, the UK-based Syrian Observatory for Human Rights monitoring group says.
The deadliest was reported from al-Bab, north of Aleppo, where 22 people died, according to the group.
Fighter jets also bombed two rebel-held districts of Aleppo, Syria's largest city - in the Halwaniyeh and Karam el-Beik districts, the head of the Observatory, Rami Abdelrahman, said adding that were "heavy civilian casualties".
Neither account of events could be independently verified.
Assassination attempt
The activist group also said that Islamist rebels, some with links to al-Qaeda, had seized Syria's largest oil field, potentially cutting off President Bashar al-Assad's access to almost all local crude reserves.
There was no immediate comment from the government about the reported loss of the Omar oil field in Deir Ezzor.
Meanwhile, Syrian state television reported that National Reconciliation Minister Ali Haidar escaped an attempt to kill him.
Mr Haidar was not in the car at the time of the shooting but his driver was killed, the report added.
Since the start of unrest in March 2011, more than 100,000 people are estimated to have been killed in the conflict.
More than two million Syrians have fled the country, according to the UN.