Iran and P5+1 nuclear talks resume in Geneva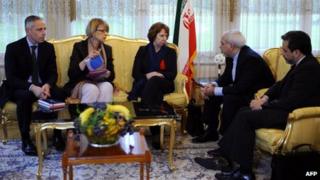 The EU's foreign policy chief and Iran's foreign minister have resumed talks on Tehran's nuclear programme.
Catherine Ashton and Mohammad Javad Zarif are meeting in Geneva following what were described as "positive" discussions on Wednesday.
A number of sticking points remain to be resolved, with the US cautioning it will not rush into any deal.
A senior Iranian negotiator warned of a "lack of trust" following the inconclusive talks earlier this month.
Abbas Araqchi told Iranian state TV that "as long as trust is not restored, we cannot continue constructive negotiations".
Mr Araqchi described Iran's "right" to carry out uranium enrichment as "non-negotiable".
Negotiators are discussing an interim agreement which could see Tehran curb its uranium enrichment in return for the easing of some international sanctions.
Iran insists its nuclear programme is for peaceful purposes, but some world powers suspect it is seeking a nuclear weapons capability.
'Buying time'
The Geneva talks, which are scheduled to conclude on Friday, involve Iran and representatives of the P5+1 - the US, UK, France, China and Russia, plus Germany.
The sides failed to agree a deal at a previous round of talks earlier this month.
Initial meetings held on Wednesday were described as "positive" by a senior US official.
However, Secretary of State John Kerry said the US would not let any deal be used by Iran as a ploy to "buy time" to increase its nuclear capability.
Mr Kerry described the negotiations as the "best chance in a decade to halt progress and roll back Iran's programme".
The US has said an interim agreement would see the bulk of international and US sanctions targeting the Islamic Republic's nuclear programme remain in place.
The essence of the deal would involve Iran halting advances of its nuclear programme and agreeing to "more vigorous inspections" in return for "a very modest amount of relief".
Concerns about the heavy-water reactor Iran is building at Arak was one of the factors that prevented agreement at the first round of talks.
Iran's insistence on formal recognition of its right to enrich uranium was another.
As talks opened on Wednesday, Iran's Supreme Leader Ayatollah Khamenei said Iran would not step back "one iota" from what he said were its nuclear rights.
Ayatollah Khamenei, who has the final say in nuclear matters, said there were "red lines" his negotiators were expected to respect.