Iran nuclear talks resume in Geneva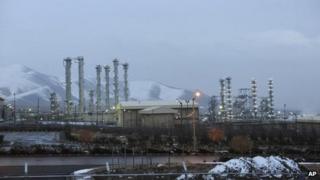 Talks between world powers and Iran to secure a deal on Tehran's nuclear programme have resumed in Geneva.
Both sides have expressed confidence a breakthrough can be achieved.
However ahead of the talks, Iran's Supreme Leader Ayatollah Ali Khamenei warned his country would not step back "one iota" from its nuclear rights and had set "red lines" for the meeting.
An interim deal could see Iran curb its uranium enrichment in return for easing of some international sanctions.
Iran insists its nuclear programme is for peaceful purposes, but some world powers have suspected it is seeking a nuclear weapons capability.
'Best chance'
The Geneva talks are expected to last for two days and involve Iran and representatives of the P5+1 - the US, UK, France, China and Russia, plus Germany.
The sides failed to agree a deal at a previous round of talks earlier this month.
The first plenary session of the latest talks was brief and introductory, with diplomats saying the evening would be taken up with more bilateral meetings.
Iranian negotiator Abbas Araqchi told Iran's Fars news agency that confidence lost from the earlier round "must be regained".
He said Wednesday's meetings would discuss the process of the negotiations and that talks on any draft agreement would probably only begin on Thursday.
A number of bilateral meetings have already taken place, including one between the EU's foreign policy chief, Baroness Catherine Ashton, and Iran's Foreign Minister Mohammad Javad Zarif.
"So far, we have progressed based on our plans and we agreed to start serious and detailed negotiations tomorrow," Mr Zarif said in a Facebook post.
A spokesman for the baroness said "a great deal of progress" was made at the previous meeting, and it is hoped the remaining differences could be "narrowed this time".
The P5+1 "remains united and will continue to be united", Michael Mann said.
The US team held its own meeting early on Wednesday with counterparts in the P5+1.
Both Iran and the P5+1 have expressed hopes for a breakthrough.
UK Foreign Secretary William Hague said: "It is the best chance for a long time to make progress on one of the gravest problems in foreign policy."
Russian Foreign Minister Sergei Lavrov said: "We hope the efforts that are being made will be crowned with success at the meeting."
Chinese Deputy Foreign Minister Li Baodong said: "Things are on track."
Iranian President Hassan Rouhani, whose election this year changed Iran's tone on the nuclear issue, said a deal would "benefit the whole region".
He added: "We have always maintained that for talks to succeed, logic and reason should be on the discussion table. Gunpowder and threats cannot be influential."
Israel remains vehemently opposed to the deal that has been floated.
Israeli Prime Minister Benjamin Netanyahu flew to Moscow on Wednesday to meet President Vladimir Putin.
Mr Netanyahu was expected to press Mr Putin to harden Russia's stance on the terms for an accord.
Before the earlier Geneva talks, Mr Netanyahu said the deal would be a "historic" mistake.
Israel fears Iran would be simply buying time to build a nuclear bomb.
'Vigorous inspections'
In a televised speech on Wednesday, Ayatollah Khamenei said Iran's negotiators had been set unspecified "red lines" before they travelled to Switzerland that had to be observed.
"We do insist that we will not step back one iota from our rights," Ayatollah Khamenei said, warning the P5+1 not to "ratchet up the pressure".
He also described Israel as "the rabid dog of the region", a comment the French foreign ministry called "unacceptable".
French concerns about the heavy-water reactor Iran is building at Arak was one of the factors that prevented agreement at the first round of talks.
Iran's insistence on formal recognition of its right to enrich uranium was another.
US President Barack Obama earlier said that an interim agreement - expected to last six months - would see the bulk of international and US sanctions targeting the Islamic Republic's nuclear programme remain in place.
Mr Obama explained the essence of the deal would involve Iran halting advances of its nuclear programme and agreeing to "more vigorous inspections" in return for "a very modest amount of relief".
Mr Obama also expressed caution over the success of the Geneva talks, saying prospects for an imminent deal were uncertain.