Syrian army captures key town of Qara from rebels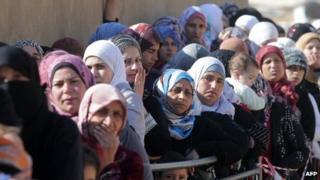 The Syrian army has taken control of Qara, a town near the Lebanese border.
The area is strategically significant, as it was on one of the opposition's last remaining supply routes.
The army launched its offensive on Friday, carrying out a series of air strikes and helicopter attacks. Thousands of Syrians fled into Lebanon.
Rebel group Jabat al-Nusra said that it and other groups had withdrawn from the area, and many rebels are reported to have been killed.
Qara lies 100km (60 miles) north of Damascus.
The Syrian government now controls the road linking the coast to the capital.
This means that the rebel-held suburbs around Damascus, which are already under siege and bombardment, will now be under even more pressure, correspondents say.
'In full control'
Government warplanes and artillery pounded Qara and its surrounding countryside on Monday, according to the UK-based Syrian Observatory for Human Rights monitoring group.
Rebels responded by shelling Damascus with mortar rounds that have hit the city almost every day over the past two weeks, leaving dozens dead or wounded.
About 10,000 Syrians are thought to have fled over the border to Lebanon, which is already hosting more than 800,000 refugees from the Syrian conflict.
But on Tuesday, state TV reported that troops were "in full control of Qara after wiping out all terrorist units in it".
A Syrian military source quoted by the AFP news agency said that a "large number of terrorists" had been killed.
The town has been in rebels hands for more than a year.
The Observatory confirmed that government troops were now in control of Qara.
It said the rebels, including members of the al-Qaeda-linked Nusra Front, had withdrawn, vowing to return at the earliest opportunity.
The Lebanon-based satellite TV channel al-Mayadeen - reporting from inside the town - said that troops had begun dismantling mines and explosives planted by the rebels. The channel showed soldiers on patrol searching for booby traps.
Correspondents say that the border offensive is part of a larger government push that began last month to capture opposition-held areas.
So far a succession of rebel-held suburbs south of Damascus have fallen to government forces, as well as areas around the northern city of Aleppo.