Profile: Abdullah Azzam Brigades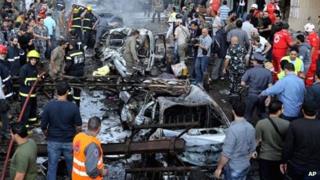 The Abdullah Azzam Brigades is a Sunni jihadist group linked to al-Qaeda which, according to the US state department, was set up in 2009.
Several branches of the group are thought to be active in Lebanon and on the Arabian Peninsula, and another offshoot is said to be active in Afghanistan and Pakistan.
The group is named after al-Qaeda's co-founder and the mentor of Osama Bin Laden. Since June 2012 it has been led by a Saudi national, Majid Bin-Muhammad al-Majid. At least two of its senior members feature on the state department's list of designated terrorists.
The group's former leader, Salih al-Qar'awi, was reportedly arrested by the Saudi authorities earlier this year after he was seriously wounded in a drone attack in Pakistan's Waziristan region, on the border with Afghanistan.
The outlet promotes itself as a protector of Sunni Muslims and has repeatedly criticised what it describes as the Shia domination of Lebanon, blaming the militant group Hezbollah for a wave of political assassinations in the country.
In 2012, the Abdullah Azzam Brigades issued a message threatening harsh punishment for any Lebanese Shia nationals who might be supporting the Syrian government in its current fight against the opposition.
In 2011 the group urged Syrians to protest peacefully saying violence would undermine the uprising. However, in statements released after August 2011, the group appeared to have changed its stance and called on protesters to take up arms.
The Abdullah Azzam Brigades have threatened attacks on Western targets in the Middle East, and they have also called for an uprising in Lebanon and for the overthrow of the Saudi government.
The group is believed to be behind a number of rocket attacks launched from southern Lebanon on Israel as well as behind a suicide attack on a Japanese oil tanker in the Gulf in August 2010.
BBC Monitoring reports and analyses news from TV, radio, web and print media around the world. For more reports from BBC Monitoring, click here. You can follow BBC Monitoring on Twitter and Facebook.