Egypt sports minister defends pro-Morsi athletes' bans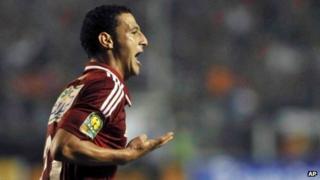 Egypt's sports minister has defended the punishment of two sportsmen who have openly expressed their support of ousted President Mohammed Morsi.
Taher Abu Zaid told the BBC that it was right a footballer and a kung-fu champion had been banned.
Politics had no place in sport, Mr Abu Zaid insisted.
The two sportsmen were sanctioned after showing solidarity with protesters demanding the reinstatement of Mr Morsi, who the army deposed in July.
In October, kung-fu champion Mohammed Youssef had a gold medal confiscated and was banned from representing Egypt at competitions after being photographed at a tournament in Russia wearing a T-shirt with the four-fingered symbol used by Morsi supporters.
Then earlier this month, the leading Egyptian football club Al Ahly said it would exclude its striker Ahmed Abdul Zaher from the Fifa Club World Cup in Morocco after he gave a four-fingered salute when celebrating a goal in the final of the African Champions League.
The salute commemorates the deaths of hundreds of Morsi supporters in mid-August in clashes that erupted when troops cleared two sit-ins in the capital Cairo, one of them outside the Rabaa al-Adawiya mosque.
In an interview with the BBC World Service's Newsday programme, Mr Abu Zaid said he was drawing up a new law that would ban any political gestures at sporting events, particularly when they related to a "terrorist" group, as the authorities refer to Mr Morsi's Muslim Brotherhood.
"We are implementing a road-map and giving all sports associations the freedom to act in accordance with the law.
"Any call for support of a terrorist or banned group is prohibited in the world of sport. So when some sportsmen display this gesture they are promoting a terrorist organisation which killed many Egyptians.
"This has nothing to do with freedom of expression and democracy."
Ahmed Abdul Zaher denied his use of the four-fingered salute had been political, saying at the time: "All I meant to do was to remember the dead."