Egypt security official investigating Brotherhood shot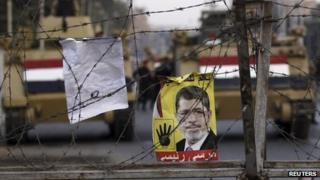 An Egyptian security official reportedly involved in the crackdown on the Muslim Brotherhood has been killed.
Mohammed Mabruk, a lieutenant colonel in the interior ministry's National Security Agency, was shot dead by gunmen outside his home late on Sunday.
Security officials said he had been in charge of monitoring the Brotherhood and was responsible for the arrests of many members of the Islamist movement.
Thousands have been detained since the army ousted President Mohammed Morsi.
Hundreds have also been killed since security forces cleared two sit-ins by people demanding Mr Morsi's reinstatement in August.
'Treacherous hands'
Police said Col Mabruk was hit by seven bullets fired by three masked gunmen in the eastern Cairo district of Nasr City.
In a statement, Prime Minister Hazem Beblawi condemned Col Mabruk's "assassination by treacherous hands".
"The government will not tolerate criminal and terrorist groups who raise their arms to terrorise security officials," he said, promising to return "security and safety to all corners of Egypt".
No group has said it was behind the attack, but a security official told the Reuters news agency: "Our investigations point to Islamic jihadists carrying out this assassination with political motives."
"They were taking revenge on Mabruk because he took care of a very high-profile file."
Col Mabruk was believed to have helped uncover the network of Brotherhood members that attempted to help the movement's leaders flee the country after the president was deposed on 3 July.
One security official meanwhile told AFP that he had been involved in drafting charges against Mr Morsi and the Brotherhood's general guide, Mohammed Badie. Both men have recently gone on trial for inciting murder and violence in separate cases.
Al-Qaeda-inspired groups based in the northern Sinai Peninsula have said they carried out previous attacks in the capital in the past four months, including a suicide bombing that targeted the interior minister.