Israel secretly detained al-Qaeda suspect Baraq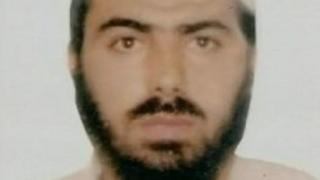 Israel has secretly held a suspected al-Qaeda biological weapons expert since 2010, it has been revealed.
A military court placed Samir Abdul Latif al-Baraq in "administrative detention", which allows indefinite detention without charge or trial, after he was arrested in July 2010.
His detention was revealed on Monday when lawyers petitioned the Israeli Supreme Court for his release.
Israeli prosecutors say the Palestinian was planning attacks on Israelis.
They claim that releasing Mr Baraq would endanger the entire Middle East, but his lawyers have challenged them to produce any evidence.
'Point of no return'
According to court documents disclosed on Monday, Mr Baraq was born in Kuwait in 1974 and moved to Pakistan in 1997 to study microbiology.
The following year, he attended a militant training camp in Afghanistan, and in 2001 was recruited by Ayman al-Zawahiri, the current leader of al-Qaeda, the documents say.
He then allegedly acquired "knowledge and experience" in non-conventional weaponry.
Israeli prosecutors said Mr Baraq spent three months at the US military detention camp at Guantanamo Bay in 2003, and was imprisoned in Jordan between 2003 and 2008 for "terrorist activity" and involvement in an al-Qaeda biological weapon project.
He was expelled from Jordan on 11 July 2010 and was subsequently arrested by Israeli troops at the Allenby Bridge border crossing while trying to enter the West Bank.
Mr Baraq was then placed in administrative detention, which is subject to renewal every six months by a military court.
The Israeli military says it uses administrative detention only when it fears an immediate risk to security or to protect informants.
Israel's justice ministry said it wanted to extend Mr Baraq's detention, arguing that releasing him would mark a "point of no return for the development of significant jihadist infrastructure in the region".
But his lawyer, Mahmid Saleh, told Israeli Army Radio: "If he is such a senior terrorist, then why hasn't he been prosecuted? There is no evidence against him."
According to the Israeli human rights group B'Tselem, 135 Palestinians were being held under administrative detention in September 2013. One of them - presumably Mr Baraq - had been held for between three and three-and-a-half years, it said.
Additionally, four Palestinians had been detained for between two and two-and-a-half years, and four held between a year-and-a-half and two years.