Syria conflict: Central Damascus attacks 'kill three'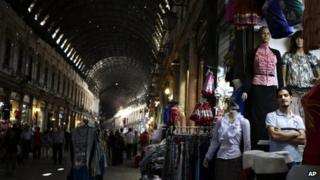 Three people have been killed by bombs and mortar fire near the historic Old City of the Syrian capital Damascus, according to state-run media.
Two bombs exploded near the capital's famous Hamidiyeh market, according to the state-run al-Ikhbariya TV station.
Another seven people were wounded, official media reported.
Also on Thursday, Russian President Vladimir Putin phoned Syrian President Bashar al-Assad to discuss a planned peace conference.
The Syrian Observatory for Human Rights, a UK-based activist group, said it had also seen "initial reports" of Thursday's deaths in Damascus.
Central Damascus has experienced increasing violence recently as clashes between government forces and rebels in its suburbs continue.
On Monday the driver of a school bus and four children died when a mortar hit the bus in Damascus's Old City.
Last week eight people were killed and 50 wounded in the central Hijaz Square, the state-run news agency Sana reported.
Russian support
The Kremlin said the phone call between Mr Putin and Mr Assad was a Russian initiative.
Mr Putin told Mr Assad that he welcomed his willingness to send a delegation to the planned conference known as Geneva II, as well as his co-operation in the continuing process of dismantling Syria's chemical weapons arsenal, the Kremlin said.
The UN, US and Russia had been trying to convene the Geneva meeting by the end of November, although there are indications that it may not take place until at least next month.
Mr Putin also confirmed "Russia's support for the Syrian people's will, whom he affirmed are the only ones to decide their country's future," Sana reports.
As a key backer of the Syrian government, Russia is seen as exerting considerable influence over Mr Assad, analysts say.
Earlier this week Syria's main opposition alliance said it would attend planned peace talks if a number of conditions were met.
After a vote early on Monday, the National Coalition reiterated that President Bashar al-Assad could have "no role" in any transitional period.
The coalition also stipulated that relief agencies had to be given access to besieged areas and that all detainees, particularly women and children, had to be freed.
The Syrian government has rejected any preconditions for the Geneva talks.
The UN says more than 100,000 people have been killed since the uprising against President Bashar al-Assad began in 2011. More than 2.2 million Syrians have fled to neighbouring countries while an estimated 4.25 million have been displaced internally.