Egypt Morsi supporters jailed over Al-Azhar unrest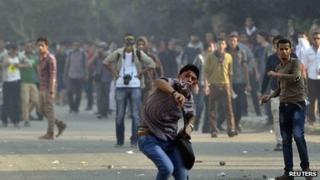 Twelve supporters of ousted Egyptian President Mohammed Morsi have been jailed for 17 years each for taking part in a violent protest in October.
They were found guilty of thuggery, assault and sabotage at the Al-Azhar university, where they were students.
Since Mr Morsi was ousted in July, thousands of his supporters have been rounded up. Many of them, including Mr Morsi himself, have been put on trial.
Meanwhile, Egypt has lifted a nationwide state of emergency.
The state of emergency, which included nightly curfews, was introduced in the middle of August amid the bloodshed and unrest which followed the army's removal of Mr Morsi from power.
It allowed the authorities to make arrests without warrants and search people's homes, but it has also been blamed for a fall in business in Cairo, at a time when the government is trying to create jobs and revive the economy.
Morsi warning
A court had ruled the special measures should be lifted on Tuesday, but Egypt's cabinet said on Wednesday that it was waiting for official notification.
A government spokesman confirmed on Thursday that it was over.
The government has said it will bolster security forces in city centres and main streets, and is expected to introduce a new law which activists say will give police the power to ban protests outright.
Mr Morsi, who is currently on trial on charges of inciting murder and violence, warned on Wednesday that Egypt could not be stable unless he returned to power.
In a statement read out by lawyers who met him in prison, he said he had been kidnapped and held against his will since the military deposed him.
He is one of thousands of Muslim Brotherhood members to have been detained over the past four months in a crackdown the interim authorities have portrayed as a struggle against "terrorism".
Hundreds of people have also been killed in clashes with security forces.