Iraqi bombs hit Shia religious processions near Baghdad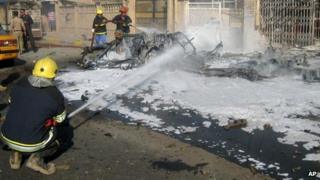 Attacks targeting Shia Muslims on the festival of Ashura have killed at least 41 people across Iraq.
In Diyala province at least 32 people were killed, while in Wasit province at least nine died when two bomb blasts hit a religious procession.
Up to two million Shia will make an Ashura pilgrimage to the Iraqi city of Karbala, where the Prophet Muhammad's grandson Hussein was killed in 680AD.
Shia religious events are frequently targeted by Sunni militants.
A double blast in the northern, ethnically mixed city of Kirkuk also wounded five people, officials said.
On Wednesday, a string of bomb attacks in Iraq targeting Shia pilgrims and police left at least 20 people dead, officials said.
Sectarian violence in Iraq has reached its highest level since 2008.
The UN says 979 people - including 158 police and 127 military personnel - were killed in violent attacks in October. More than 6,500 civilians have died this year.
Iraq has also seen a spill-over of violence from the conflict in Syria, where jihadist rebels linked to the Islamic State of Iraq, a Sunni militant umbrella group that includes al-Qaeda, have risen to prominence.