Israeli soldier stabbed to death on bus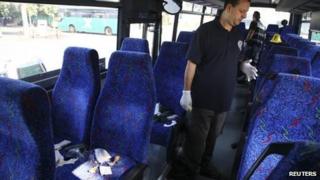 An Israeli soldier has been stabbed to death by a Palestinian teenager on a bus in northern Israel, police say.
The 18-year-old soldier was stabbed multiple times in the neck and upper body as the bus from Nazareth stopped in the town of Afula, Israeli police spokesman Micky Rosenfeld said.
He was rushed to hospital in a critical condition, but died of his wounds.
The attacker, a 16-year-old from the West Bank town of Jenin who was working in Israel illegally, is in custody.
Other passengers on the bus subdued him before handing him over to the security forces, according to the Jerusalem Post newspaper.
Israel's northern police commander, Roni Attia, said: "By his account, his uncles are in prison in Israel and this is the reason he decided to carry out the terrorist attack."
The violence comes as the US attempts to revive faltering peace talks between Israeli and Palestinian leaders.
On Tuesday, Israeli Prime Minister Benjamin Netanyahu ordered a halt to controversial plans for the construction of 24,000 new homes at Jewish settlements in the occupied West Bank.
Mr Netanyahu said the plan, announced by his housing minister, had caused unnecessary conflict with the international community at a time when Israel is pressing for a tougher stance on Iran's nuclear programme.
The US said it had no prior knowledge of the plan, which prompted a Palestinian threat to walk out of the peace talks.