Iraq Shia pilgrims and police killed in bomb attacks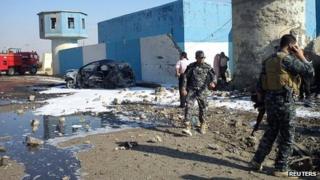 A string of bomb attacks in Iraq targeting Shia pilgrims and police has killed at least 20 people and left dozens more wounded, officials say.
In the deadliest attack, at least 10 people died when a suicide bomber rammed his explosives-laden car into a police checkpoint near Tikrit.
In Baquba, three bomb blasts hit a gathering of Shia pilgrims, killing at least eight people.
The other two deaths were reported in Falluja and the capital, Baghdad.
In Baquba, more than 20 people were also injured when three devices were detonated almost simultaneously near the procession of pilgrims.
The attack happened on the eve of the religious festival of Ashura, which this year falls on Thursday.
It commemorates the martyrdom of Prophet Muhammad's grandson, Hussein, at the Battle of Karbala in 680AD.
No group has so far admitted carrying out the attack, but Shia religious events are frequently targeted by Sunni militants.
Sectarian violence has surged across the country in recent months, reaching its highest level since 2008.
The UN says 979 people - including 158 police and 127 military personnel - were killed in violent attacks in October. More than 6,500 civilians have died this year.
The unrest was sparked by an army raid on a Sunni Arab anti-government protest camp in April. The protesters had called for the resignation of Shia Prime Minister Nouri Maliki and denounced the authorities for allegedly targeting the minority Sunni community.
Iraq has also seen a spill-over of violence from the conflict in Syria, where jihadist rebels linked to the Islamic State of Iraq, a Sunni militant umbrella group that includes al-Qaeda, have risen to prominence.