Israeli PM orders rethink on settlement construction plans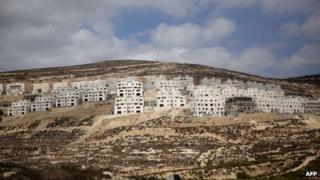 Israeli PM Benjamin Netanyahu has ordered his housing minister to reconsider construction plans for more than 20,000 homes in the West Bank.
He said the plans, announced by Housing Minister Uri Ariel earlier on Tuesday, would create unnecessary friction with the international community.
The US had earlier said it was "deeply concerned" over the Israeli plans.
The Palestinians had said they would appeal to the UN, warning that Israel's move would kill off peace talks.
In a statement, Mr Netanyahu said he had asked Housing Minister Uri Ariel "to reconsider" plans for potential construction of new homes for Jewish settlers in the West Bank.
The prime minister added that such a move would make no contribution to Jewish settlements and "creates an unnecessary confrontation with the international community at a time when we are making an effort to persuade elements in the international community to reach a better deal with Iran".
Mr Netanyahu was referring to recent talks in Geneva on Tehran's controversial programme that ended without a deal.
The statement added that Mr Ariel had accepted the prime minister's request.
'Deep concern'
Palestinian Authority President Mahmoud Abbas earlier warned that current stalled peace talks with Israel would be effectively over if Israel proceeded with the construction.
The Palestinians also said they would appeal to the UN to urgently discuss the issue.
In Washington, state department spokeswoman Jen Psaki said earlier the US was "deeply concerned" by Israel's plans.
She added that America would seek "further explanation" from Israel on the issue.
Last week, US Secretary of State John Kerry emphasised Washington's rejection of Israeli settlement activity as "illegitimate".
The direct Israeli-Palestinian peace talks launched in July have shown little sign of progress. A previous round of negotiations collapsed in September 2010 in a bitter row over Israeli settlements.
Mr Netanyahu wants Palestinian recognition of Israel as a Jewish state as a priority, whereas the Palestinians say borders and security top their agenda.
The Palestinians want their state to include all land captured by Israel in 1967, but some 500,000 Jews now live in more than 200 settlements and outposts in the West Bank including East Jerusalem. The settlements are considered illegal under international law, though Israel disputes this.
However, Mr Netanyahu has rejected any return to the pre-1967 ceasefire lines as "indefensible", saying it would not take into account the "demographic changes on the ground".
Mutually-agreed land swaps have been discussed in previous talks as a way to overcome this problem.