Iran: Rouhani's first 100 days
By Amir Paivar
BBC Persian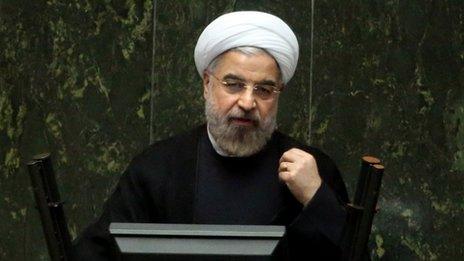 Hassan Rouhani was elected president in a surprise victory in June, with a mandate for change and moderation in Iran, a promise to save the economy and a mission to have international sanctions lifted by putting an end to the nuclear standoff.
President Rouhani promised voters he would make tangible changes in his first 100 days of office.
Mr Rouhani has shown he can be a "charmer" on the international stage, a "fixer" for the Iranian economy, but no more than a temporary "broker" when it comes to human rights issues.
He has stood by his election campaign promise, bringing a fresh start to Iran's foreign policy and the nuclear standoff.
Whether this initiative will also end in a deal favourable both to Iran and the West is a different story.
Iran's new negotiators, who are seasoned, Western-educated diplomats, have engaged in two rounds of "serious" negotiations in Geneva.
A deal seems possible whereby Iran scales down its uranium enrichment and gives more access to international nuclear inspectors.
In return, the US and the European Union would ease sanctions that are strangling the Iranian economy.
Details of the nuclear deal between the five permanent members of the UN Security Council and Germany on one hand, and Iran on the other, are yet to be finalised.
In reaching a deal, President Rouhani could put an end to the stalemate between Iran and the West - at least temporarily.
As Iran's former chief nuclear negotiator, Mr Rouhani had once before suspended Iran's uranium enrichment but the deal was broken after Mahmoud Ahmadinejad became president in 2005.
So far, negotiations in Rouhani's first term have marked a major departure from previous rounds under former President Ahmadinejad that bore no fruit.
To the surprise of many, what seems to be a policy shift in Iran's nuclear programme comes with the backing of Supreme Leader Ayatollah Ali Khamenei, who has the last say over almost all state matters.
President Rouhani also did something no other Iranian president has ever done.
He picked up the phone when Barack Obama called him during the Iranian president's visit to New York on the sidelines of the UN General Assembly in September - the first and only telephone conversation between Iranian and US leaders in over 30 years.
In what seemed to be a charm offensive, the Iranian president reached out to Americans during his UN visit and talked about the possibility of a new opening between the two countries.
Foreign Minister Mohammad Javad Zarif met his American counterpart John Kerry behind closed doors, a first meeting of its kind in 30 years.
The prospect of resolving the nuclear standoff has also increased the possibility of improved ties between Iran and the UK.
Tehran and London have already re-established diplomatic relations that were broken following an attack by militant students on the British embassy in Tehran in 2009.
President Rouhani's government has also tried to improve its ties with regional rivals such as Turkey and Saudi Arabia.
Syria has for the past two years been the theatre of a battle between the region's Shia and Sunni powers.
President Rouhani's overtures in the past 100 days have also increased the chance of a solution for the Syria crisis.
Iran's economy is under unprecedented pressure from international sanctions imposed to curtail Tehran's controversial nuclear programme.
The US and the EU have either stopped buying Iranian oil or punish those who do by locking them out of their markets. As a result Iran's oil exports are down 60% compared to last year.
Banking sanctions have severely limited Iran's ability to move the profits from the oil it sells, and sanctions on shipping and insurance are squeezing Iran's trade with the world.
As a result of the sanctions the country's economy is shrinking, with Iranian officials estimating GDP to reach -6% this year.
Lack of growth has been coupled with annual inflation of over 40%, giving Iran its worst stagflation in 25 years.
President Rouhani knows to fix the economy he would have to resolve the nuclear standoff, and first and foremost, have sanctions lifted. His approach to nuclear negotiations has so far helped stop the situation getting any worse.
The Iranian currency, the rial, has been stable against the dollar since his election, unlike the previous year when it lost two-thirds of its value.
Tehran's stock market shares have gone up 25% in just 100 days, thanks to increasing confidence in his economic policies and capital returning to the bourse from parallel markets like gold.
Since taking office, President Rouhani has primarily sought to reverse what Mr Ahmadinejad had done to the Iranian economy. He has brought back several Iranian professionals to key ministerial and management positions.
In order to control the inflation, Mr Rouhani has slowed down or suspended populist initiatives of the previous government, such as a cheap housing scheme.
He also had to put further subsidy reforms on hold as the government is running a 30% budget deficit and cannot afford to pay cash-handouts even after removing state subsidies for food and energy as was planned.
Unlike the economic front, the human rights record of Iran has hardly changed since Mr Rouhani became president.
About a dozen political prisoners were released on the eve of Mr Rouhani's UN visit, carefully choreographed to boost his international image, but that was all.
The main opposition leaders, Mir Hossein Moussavi and his wife Zahra Rahnavard, as well as Mehdi Karroubi, all remain under house arrest and there is no indication of their imminent release.
The release of political prisoners - some 800 people according to the UK's Guardian newspaper - was one of the main demands of those who voted for Mr Rouhani. It was also seen as a litmus test of the new president's authority.
Public executions have continued and, according to some accounts, even increased since Mr Rouhani's election.
Although the judiciary is beyond Mr Rouhani's control, voters hoped he could use his leverage to stop public executions.
In the past 100 days, Mr Rouhani's government closed down the reformist Bahar newspaper for printing an allegedly controversial editorial on a religious matter.
Journalists, especially those working for Persian-speaking media based outside Iran, report continued harassment of their families back home, this time by security forces who are now working for Mr Rouhani's government.
While casting doubt over US intentions, Supreme Leader Khamenei has so far publicly supported Mr Rouhani's overtures on nuclear and foreign policies.
Following in the leader's footsteps, Iranian conservatives too have given the president their backing when it comes to nuclear negotiations.
Ayatollah Khamenei has also asked the powerful Revolutionary Guards to stay out of politics, in order to give Mr Rouhani's fledgling attempts for rapprochement a chance to hatch.
But many observers believe hardliners may be "on holiday". This honeymoon could be over if the new president fails to make a deal with the West and remove sanctions.
This will have to be a deal that Mr Rouhani could also sell to the hardliners back home, reassuring them and the Supreme Leader, of the survival of the regime despite slowing down the nuclear programme and improving ties with the West.