Acquitted Lieberman returns as Israel foreign minister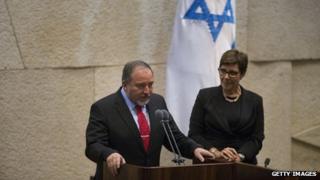 Israeli far-right politician Avigdor Lieberman has returned to the post of foreign minister after being cleared of corruption charges.
Mr Lieberman was sworn in after parliament endorsed his return to government by 62 votes to 17.
His party Yisrael Beytenu is part of the governing coalition led by Prime Minister Benjamin Netanyahu.
Mr Lieberman, 55, is a critic of US-backed peace negotiations with the Palestinians, which resumed in July.
He stepped down last December after he was charged with fraud and breach of trust.
The accusations related to his alleged involvement in the promotion of Israel's former ambassador to Belarus. But a court in Jerusalem acquitted him last week.
'Behaved inappropriately'
Mr Lieberman is a key ally of Mr Netanyahu and his party ran on a list with Likud which narrowly won general elections in January.
The prime minister served as interim foreign minister after he resigned, keeping the post open.
He said on Monday that he looked forward to Mr Lieberman's return to government.
"We have a lot to work on; great tests and great challenges," he said. "Welcome back."
Prosecutors had accused Mr Lieberman of intervening to promote Zeev Ben Aryeh, the former ambassador to Belarus, to a post in Latvia.
They argued it was a reward for a tip-off about a separate criminal investigation he was facing.
The judges ruled last Wednesday that Mr Lieberman had behaved inappropriately by not disclosing the information given to him by Mr Ben Aryeh, but it had not been a criminal offence.
One of Israel's most outspoken politicians, Mr Lieberman was born in Moldova and was one of the million Israelis who emigrated from the former Soviet Union.
To the right of Mr Netanyahu politically, he has been a staunch critic of the Palestinian Authority and its leader Mahmoud Abbas.