Syrian National Coalition agrees Geneva talks position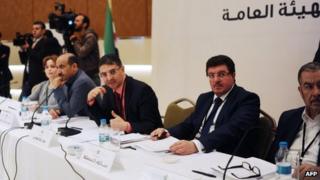 Syria's main opposition alliance says it will attend planned peace talks, if a number of conditions are met.
After a vote early on Monday, the National Coalition reiterated that President Bashar al-Assad would "have no role in the transitional period".
Before any meeting, relief agencies had to be given access to besieged areas and all detainees, particularly women and children, had to be freed, it said.
The Syrian government has rejected any preconditions for the Geneva talks.
The UN, US and Russia had been trying to convene the meeting by the end of November.
But UN-Arab League envoy Lakhdar Brahimi said last week that the conference would be delayed, although he was still "striving" for a summit by the end of the year.
Future of Syria
The National Coalition reached the agreement after two days of talks in Istanbul.
A statement released by the office of Monzer Azbik, the chief of staff to the coalition's leader, repeated the group's demand that President Assad step down in any transitional government.
"Bashar al-Assad will have no role in the transitional period and the future of Syria,'' it said.
The coalition also outlined conditions that must be met before the talks, including a guarantee of access for relief agencies.
US Secretary of State John Kerry said the result of the vote was encouraging.
"This is a big step forward and an important one," he told reporters in Abu Dhabi.
The US, UN and Russia have been trying for months to convince both the Syrian government and opposition to accept a political solution to the 32-month-old conflict based on the core elements of the final communique issued in June 2012 after a meeting of the UN-backed Action Group for Syria in Geneva.
The so-called Geneva Communique called for an immediate cessation of violence and the establishment of a transitional government that could include officials serving under Mr Assad and members of the opposition.
The government has said it will "in principle" attend the conference. However, it has also said it will not negotiate with "terrorists", while dismissing almost all those who oppose it as such. It has also insisted repeatedly that any political solution will not involve Mr Assad's departure,
Ahmed Jarba, the head of the National Coalition, had already indicated a willingness to attend the Geneva talks.
But several of the major rebel fighting groups have refused to recognise its authority and rejected the idea of negotiations.
More than 100,000 people have been killed since the uprising against President Assad began in March 2011, according to the UN.
Aid agencies have warned that more than nine million Syrians, almost half the population are now in need of humanitarian relief.