Iran nuclear talks: This time they are different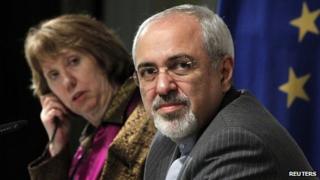 After three days of marathon negotiations - the dramatic and sudden arrival of US Secretary of State John Kerry on Friday, followed by other foreign ministers, and a diplomatic merry-go-round at the Intercontinental Hotel in Geneva - there was still no deal. A good beginning or an honourable failure?
At the press conference, EU foreign policy chief Catherine Ashton and Iranian Foreign Minister Mohammad Javad Zarif looked exhausted by the marathon talks.
Mr Zarif smiled and insisted the talks had been positive.
He didn't take the bait when asked whether he was upset with the French for apparently throwing a wrench in the works and thanked all the ministers for coming, saying it was normal to have differences.
But the press conference was short and felt somewhat awkward, as though neither one of them wanted to be there.
French objections
Mr Zarif said he was not disappointed there was no deal. There was a lot of progress, according to him, and something to build on during the next round of talks later this month.
Although Mr Kerry had made clear when he arrived on Friday that there was no deal yet in an effort to manage expectations, no-one really expected the talks to hit a snag because of France.
All day reports circulated about divisions within the group of six world powers.
Western diplomats told reporters camped in the hotel lobby that they were furious with the French for inserting their objections at the last minute.
But France's position has always been tough on Iran - perhaps unnoticed, because the focus is mostly on the US stance.
French diplomats have told me in recent years they believed the Obama administration was willing to concede too much too soon.
After the talks ended around 01:00 local time (00:00 GMT) on Sunday, Russian Foreign Minister Sergei Lavrov went to the bar.
French Foreign Minister Laurent Fabius pre-empted the Ashton-Zarif press conference by speaking first, just outside the hotel where all the delegations had been meeting.
Mr Fabius unilaterally announced that the ministers had failed to reach a deal and said that more work needed to be done.
For the P5+1, which always insists on showing unity when dealing with Iran, this was not its finest moment.
More progress
The negotiations will now resume on 20 November at the political director level - a sign perhaps of how much work still needs to be done before an interim agreement can be reached.
During his press conference, Mr Kerry was keen to emphasise that there was no need to rush and that it was reasonable to return to capitals for consultations to get ready for the next round.
The US has some allies to reassure about the deal and rushing to the finish line this early would have caused unmanageable angst in Israel, but also Saudi Arabia.
Mr Kerry also pointed out it wasn't easy to overcome 30 years of mistrust between the US and Iran (although it seems even harder to overcome French mistrust of Iran).
But it's important also to remember that this was only the second round of talks with this Iranian government.
Mr Kerry and Mr Zarif had only met once before in September at the UN for a brief first encounter. In Geneva they spent almost 10 hours in the same room over the course of two days.
Although there have been many rounds of negotiations in the past, all sides agree that this time is different.
Although differences remain, more progress was made over the course of the last few days than over the last 10 years.