UN targets polio in Middle East after Syria outbreak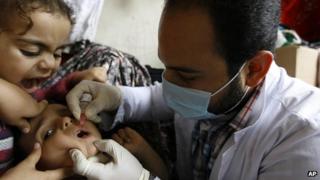 A huge vaccination campaign against polio has been launched by the United Nations in the Middle East after the disease re-emerged in Syria.
The UN says it aims to immunise more than 20 million children in several countries over six months.
Syria eradicated polio 14 years ago but vaccination programmes have suffered in nearly three years of civil war.
Government troops launched a new offensive on Friday, pushing rebels out of a base near the city of Aleppo.
After an artillery barrage and air strikes, President Bashar al-Assad's forces recaptured parts of Base 80, according to opposition monitors and a Reuters photographer on the ground. The military installation near the international airport was taken by rebels earlier this year.
Reports suggest at least 15 rebel fighters were killed but opposition forces were said to be regrouping after the fighting near Aleppo, Syria's second city.
More than 100,000 people have been killed and about two million people have fled abroad since the uprising against Mr Assad began.
Diplomats are struggling to fix a date for a long-delayed peace conference.
Children paralysed
As a result of the polio outbreak, at least 10 children have been paralysed, and hundreds of thousands more are thought to be at risk.
"[This] is not just a tragedy for children, it is an urgent alarm - and a crucial opportunity to reach all under-immunised children wherever they are," said Peter Crowley, chief of polio for the UN children's agency Unicef.
He said the new cases in Syria were a "stark reminder" that children are particularly vulnerable to the disease.
Doctors in Germany this week warned that Europe could be at risk from unsuspecting carriers bringing polio from Syria.
The UN immunisation operation, described as one of the largest ever in the Middle East, will also inoculate some children against measles, mumps and rubella.
It will target children in Egypt, Iraq, Jordan, Lebanon, the West Bank and Gaza, Syria and Turkey.
"It is going to need quite an intense period of activity to raise the immunity in a region that has really been ravaged both by conflict in some parts, but also by large population movements," said World Health Organization spokeswoman Sona Bari.
Syria's immunisation rates have plunged from more than 90% before the conflict broke out in March 2011 to current levels of about 68%.
Initial tests indicate the current outbreak stems from a virus which originated in Pakistan. The disease is still endemic in Pakistan, Nigeria and Afghanistan.
"We're never going to know how exactly how it arrived in Syria," Ms Bari said. "We also know that adults tend to have much higher level of immunity already developed, so it is unlikely that adults brought this in. It is more likely some other route."
Polio is highly contagious and most often spread by consuming food or liquid contaminated with faeces.
It attacks the nervous system and can lead to paralysis or death, with children most at risk. There is no cure but it can be prevented though vaccination.