Palestinian shot dead by Israeli troops in West Bank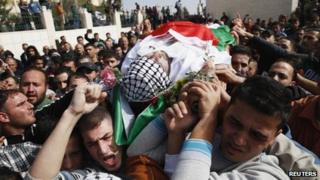 Israeli troops have shot dead a Palestinian who tried to stab one of them in the West Bank, an Israeli police spokesman has said.
Micky Rosenfeld said a man brandishing a knife was killed by Border Police officers after he ignored their calls to stop at a checkpoint near Jerusalem.
But the dead man's father insisted that he had simply been attempting to get out of his car after being stopped.
He was the second Palestinian to be killed in the West Bank in two days.
On Thursday, a man was shot by Israeli troops after firing an "improvised weapon" - thought to be a firework or a flare gun - at a checkpoint near the northern West Bank city of Nablus, Israeli police said.
The dead man was identified as Bashar Habanin, a 29-year-old from the village of Mirka, near Jenin.
He was a lecturer at Tulkarm University and not known to have belonged to any political or militant group, according to the AFP news agency.
'Third intifada' warning
Relatives of the man shot dead on Friday named him as Anas al-Atrash, 23, from Hebron.
"They stopped my two sons at the checkpoint and they were waiting to be checked. Then the soldiers came to the car and opened the door and my son tried to get out and they shot him," his father, Fuad, told AFP.
The brother was arrested, he added.
The account differed from that of Mr Rosenfeld, who said: "The Palestinian had a knife in his hand and a border police officer responded by firing shots at the suspect who was injured seriously and pronounced dead a short while after."
In a separate incident on Friday, two Israeli civilians were lightly wounded when Palestinians threw firebombs at their car near the Tekoa settlement.
The civilians managed to escape the vehicle, which was set on fire.
The violence came after US Secretary of State John Kerry held talks with Israeli and Palestinian leaders in an effort to revive faltering peace talks.
In a television interview on Thursday, Mr Kerry warned that failure to negotiate a two-state solution could trigger another Palestinian uprising against Israel.
"The alternative to getting back to the talks is the potential of chaos," he said. "I mean, does Israel want a third intifada?"