Iran nuclear: Cautious optimism at Geneva talks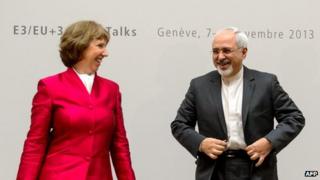 Talks between Iran and world powers on Tehran's disputed nuclear programme have begun in Geneva, with both sides expressing cautious optimism.
The world powers are expected to demand that Iran immediately stop development of its nuclear programme, in exchange for a limited lifting of sanctions.
Earlier, the EU foreign policy envoy held a "good meeting" with Iran's foreign minister, a spokesman said.
The West suspects Iran of seeking nuclear weapons, a claim it denies.
Israeli Prime Minister Benjamin Netanyahu warned on Thursday that the proposals in Geneva would allow Iran to retain the capabilities to make nuclear weapons.
"Israel totally opposes these proposals," he said.
"I believe that adopting them would be a mistake of historic proportions. They must be rejected outright."
'First step'
In comments broadcast on Iranian TV on Thursday, Iranian Foreign Minister Mohammad Javad Zarif said the nuclear issue was "not insoluble", adding it was his government's policy to "refrain from seeking nuclear weapons".
Ahead of the talks, he met EU foreign policy envoy Baroness Ashton for a working breakfast. Her spokesman described it as a good meeting, while Reuters quoted Mr Zarif as saying an agreement was within reach.
After last month's meeting, international negotiators said they were considering an Iranian proposal. No details have been released.
The latest round of talks bring together Iranian officials and representatives of the "P5+1" - the permanent members of the UN Security Council (Britain, China, France, Russia and the US) plus Germany - also known as the E3+3.
Ahead of the meetings, a senior US administration official told reporters that Washington wanted Tehran to agree on a "first step" to stop advancing its programme further.
The official, who spoke on the condition of anonymity, said the US was hoping for "an initial understanding that stops Iran's nuclear programme from moving forward and rolls it back for the first time in decades".
However, Israel has warned against accepting any partial deal.
Earlier, an official said Israel had learned of a proposal work under which Iran would cease all uranium enrichment at 20% - a step away from achieving a nuclear weapons capability - and slow down on a heavy-water reactor in Arak.
In return, sanctions would be eased on Iran, the Israeli official said.
"Israel thinks this is a bad deal and will oppose it strongly," the official said.
Key demands
Last month's talks were the first since Mr Rouhani - seen as a relative moderate - became Iran's president in August.
International negotiators want Tehran to take specific steps to prevent it from ever being able to make nuclear weapons.
In return, they promise to lift some of the sanctions imposed in recent years.
Key international demands include the acceptance by Iran of a comprehensive verification regime - with unannounced checks - and a reduction in Iran's level of uranium enrichment.
Iran subscribed to a fuller inspection regime under the International Atomic Energy Agency (IAEA), which was known as the additional protocol, until 2006.
Western nations have also been pressing for Tehran to halt the production and stockpiling of uranium enriched to 20%.
They also want Iran to send some of its stockpiles abroad, and shut down the Fordo production site near the city of Qom, where most of the higher-grade enrichment work is done.
Since 2006 the UN Security Council has imposed a series of sanctions - including asset freezes and travel bans - on entities and people involved in Iran's nuclear programme.
Separate US and EU sanctions have targeted Iran's energy and banking sectors, crippling its oil-based economy. Iran wants the sanctions lifted.