Violence in Iraq sparks new sectarian displacement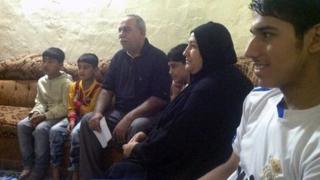 The Farouk family were so frightened that we had to visit their house under cover of night to hear their story.
They are Sunni Muslims and say they received an ultimatum to leave their house from Shia extremists who have been spreading fear among Sunnis living in the al-Zubair district of the southern Iraqi city of Basra.
The father showed me a scrap of paper with few words written on one of its corners.
It was a threat to kill his family if they did not leave the area where he was born 45 years ago.
"'I don't care if I'm dead or alive. I care about my children," he said. "They could be kidnapped and killed, as has happened with many families."
"We were displaced then in 2007. We went to Syria as refugees and returned last year. We thought that sectarianism had ended but it seems we had illusions."
The mother told us that they were taking the threat seriously because they knew of other Sunnis who had been either shot dead or had left Basra for their own safety in recent months.
She said was so concerned about her children that she had stopped them from going to school or even playing football in front of their house.
"We won't feel peace of mind until we leave this district," she added.
Minority fears
When the sectarian conflict between Iraq's majority Shia community and minority Sunni community was at its peak between 2006 and 2007, many people were forced from their homes.
The UN High Commissioner for Refugees (UNHCR) estimated that up to two million Iraqi refugees were living in neighbouring countries in March 2007.
Today, there are more than 1.1 million internally displaced people (IDPs). Most live in Baghdad, Diyala and Nineveh provinces.
Some 467,000 IDPs, former refugees and squatters remain in more than 382 settlements on public land or in public buildings, enduring harsh living conditions and with limited access to electricity, sanitation, schooling or sufficient job opportunities, according to the UNHCR.
This year, sectarian violence has once more become routine on the streets of Iraq, with 6,500 civilians killed since January - a death toll not seen since 2008.
People are again being forced to flee areas where their sect is in the minority.
In September, the UNHCR said as many as 5,000 Iraqis had fled their homes so far this year, with most fleeing from Baghdad into Anbar and Salah al-Din provinces.
Traditionally mixed areas like al-Zubair have been most affected, as people leave for religiously homogeneous areas that they believe offer more safety.
'Horrible times'
In the predominantly Sunni eastern province of Diyala, it is the Shia population that is being forced out.
The violence is so fierce that we were refused a permit to travel there, so we asked a local journalist to interview one of the 400 Shia families who officials say have been displaced over the past two months alone.
Qais and his family left their home in a Sunni area to stay with relatives in a Shia district. They now feel much safer.
"Sunni extremists blew up my house and other houses in the area. We lost everything and took with us few belongings," he said.
"Thank God we had just left the house area a few days before the blast."
Like the Farouk family, it was the second time Qais and his children had been displaced.
"The first time was in 2006. They were horrible times. I recall when we used to avoid passing by entire Sunni areas where killing on identification was rife."
The rise in sectarian attacks has made the fear of violence a part of daily live for Iraqis.
It dictates which market, shop or cafe they can visit, where they can live, and who can be their neighbours.
They now worry there could soon be another full-blown sectarian conflict.