Iran prosecutor and driver killed in Sistan Baluchistan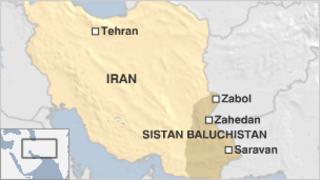 A public prosecutor and his driver have been killed in the restive south-eastern Iranian province of Sistan Baluchistan, state media say.
Mousa Nouri, a prosecutor in the town of Zabol, reportedly died in a "hail of bullets" fired by unknown assailants.
The attack comes less than two weeks after 14 border guards were killed on the frontier with Pakistan. Sixteen prisoners were executed in retaliation.
However, the province's judiciary chief said the incidents were not related.
Ebrahim Hamidi said Mr Nouri and his driver were shot dead in front of a hospital in Zabol as they travelled to work on Wednesday morning.
There was no immediate claim of responsibility for the attack.
Rebels
Sistan Baluchistan, which borders both Afghanistan and Pakistan, has been the scene of frequent clashes in recent years between security forces and drug smugglers and Sunni Muslim rebel groups.
A previously little known rebel group, Jaish al-Adl, said it was behind the killing on 26 October of the 14 border guards and the capture of three others outside the town of Saravan.
The authorities in the provincial capital, Zahedan, responded by hanging 16 people they claimed were "linked to groups hostile to the regime".
It is not clear what link, if any, those hanged had to the Saravan attack.