Israel ex-FM Avigdor Lieberman cleared of corruption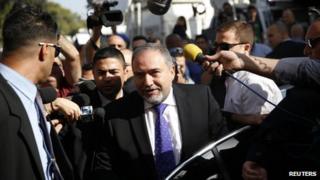 Israel's former Foreign Minister Avigdor Lieberman has been cleared of corruption charges by a court in Jerusalem.
Mr Lieberman will now return to the cabinet, Prime Minister Benjamin Netanyahu has announced. The pair are key allies.
The charges related to his alleged involvement in the promotion of Israel's former ambassador to Belarus.
A guilty verdict had threatened to shake up Israel's ruling coalition.
Mr Lieberman, 55, who stepped down after the charges of fraud and breach of trust were filed, heads the right-wing Yisrael Beitenu party.
He had denied all counts and told reporters after the verdict that, after 17 years of allegations, "I want to put this chapter behind me."
Outspoken
His party ran on a list with Likud which narrowly won general elections in January. Since his resignation, Mr Netanyahu has served as interim foreign minister, keeping the post open.
In a statement, the prime minister told Mr Lieberman: "I congratulate you on the unanimous acquittal and am happy about your return to the Israeli government so we can continue working together for the good of the people of Israel."
Interior Minister Gideon Saar and Economy Minister Naftali Bennett told Israeli media that they now expected Mr Lieberman to return to the foreign ministry.
The cabinet and parliament must approve such an appointment, which could happen by Monday.
A justice ministry spokesperson told the BBC that Israel's attorney general had not decided yet whether to appeal against the acquittal. He has 45 days to announce his decision.
Prosecutors had accused Mr Lieberman of intervening to promote Zeev Ben Aryeh, the former ambassador to Belarus, to a post in Latvia.
They argued it was a reward for a tip-off about a separate criminal investigation he was facing.
The judges ruled on Wednesday that Mr Lieberman had behaved inappropriately by not disclosing the information given to him by Mr Ben Aryeh, but it had not been a criminal offence.
If he had been convicted and sentenced to more than three months in prison, he would have been be forced to give up his parliamentary seat.
The BBC's Yolande Knell in Jerusalem says the court's decision could have profound implications for Israeli politics.
Barring an appeal by the attorney general, it clears the way for Mr Lieberman to return to the position of foreign minister.
Our correspondent adds that although he has been dogged by accusations of corruption during his career, this was the first time he had faced charges that could have excluded him from political life.
One of Israel's most outspoken politicians, Mr Lieberman was born in Moldova and was one of the million Israelis who emigrated from the former Soviet Union.
To the right of Mr Netanyahu politically, he has been a staunch critic of the Palestinian Authority and its leader Mahmoud Abbas.