Kerry aims to revive Israeli-Palestinian peace talks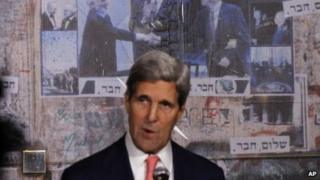 US Secretary of State John Kerry is to meet Israeli and Palestinian leaders in an attempt to inject momentum into peace talks launched three months ago.
"I come here without any illusions about the difficulties, but I come here determined to work," Mr Kerry said.
The talks, due to end next April, have shown little sign of progress. Mr Kerry has denied media speculation that he may propose a new interim peace deal.
His visit follows earlier stopovers in Saudi Arabia and Egypt.
Mr Kerry will meet Israeli Prime Minister Benjamin Netanyahu in Jerusalem and Palestinian President Mahmoud Abbas in Bethlehem on Wednesday.
He brokered the peace talks that opened in late July, after several years of stalemate.
Mr Kerry is pursuing an agreement based on a "two-state solution" that envisages Israel and a Palestinian state - consisting of the West Bank and Gaza - existing alongside each other.
"We believe this is something that is possible and that it's good for all and can be achieved," Mr Kerry said on Tuesday at a ceremony in Tel Aviv marking 18 years since the assassination of Israeli leader Yitzhak Rabin.
He has previously said that all final-status issues - Jerusalem, borders, security arrangements, settlements and Palestinian refugees - are on the table.
He has denied speculation over an interim deal, saying: "Let me categorically dispel any notion that there is anything other than the track that is formally engaged in between Israel and the Palestinians.
"There is no other plan at this point in time," he said during his recent trip to Saudi Arabia.
The negotiating sessions have been held in secret locations and at undisclosed times as part of a US-requested media blackout.
But both sides have voiced frustration at a lack of progress on core issues.
Mr Netanyahu wants Palestinian recognition of Israel as a Jewish state as a priority, whereas the Palestinians say borders and security top their agenda.
The Palestinians want their state to include land captured by Israel in 1967, but some 500,000 Israelis now live in settlements built on the occupied territories.
Mr Netanyahu has rejected any return to the 1967 lines as "indefensible", saying it would not take into account the "demographic changes on the ground".
The settlements are considered illegal under international law, though Israel disputes this.