Syria crisis: Diplomats meet over peace talks delay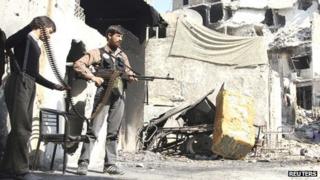 Talks are being held in Geneva between UN-Arab League envoy Lakhdar Brahimi and US and Russian diplomats to try to pave the way for a Syria peace summit.
Attempts to set up a conference to end the Syrian conflict have been going on for months amid disputes over who should attend and its agenda.
Mr Brahimi will also meet delegates from the rest of the UN Security Council and Syria's neighbours.
Meanwhile, the UN says the number of Syrians needing aid has soared.
Aid agencies have warned that more than nine million Syrians are now in need of humanitarian relief.
Dozens of senior diplomats are gathered at the UN's Swiss headquarters, including the US under-secretary of state and Russia's deputy foreign minister. They will be joined by the other permanent members of the UN Security Council - the UK, France and China - as well as Syria's neighbours Lebanon, Iraq, Jordan and Turkey.
The idea of a conference was first mooted in May, and in September UN Secretary General Ban Ki-moon announced a tentative date of mid-November after the Security Council passed a binding resolution on chemical weapons.
There had been hopes that it could take place on 23 October, but a source close to Tuesday's talks has told Russia's Itar-Tass news agency that now it will not be held before next month.
US and Russian diplomats refused to confirm that report to the BBC's Imogen Foulkes at the talks venue in Geneva.
Only Syria's government and opposition groups can reach a peace deal and make it stick - but they are not in Geneva, and they continue to disagree, our correspondent says.
The Syrian government expects to take part in eventual negotiations, while the opposition says Syrian President Bashar al-Assad should step down first.
Late on Monday, Syrian Information Minister Omran al-Zohbi said his country would not take part in the proposed conference if the aim was to get Mr Assad to step down.
"We will not go to Geneva to hand over power as desired by [Saudi Foreign Minister Prince Saud] al-Faisal and certain opponents abroad," he said in comments carried by the official Sana news agency.
In Moscow on Tuesday, Russian Foreign Minister Sergei Lavrov reiterated that Iran, a key ally of Syria, must be among those invited.
"This includes all of Syria's neighbours, this includes almost all countries of the Persian [Arabian] Gulf including, of course, not only the Arab countries, but also Iran; this includes the permanent members of the UN Security Council, and other countries such as Turkey."
On Sunday, the head of the Syrian National Coalition, the main opposition group, said it would boycott a meeting if it involved Iran.
The Coalition has also insisted on agreement that President Assad must step down if it is to attend any talks.
Meanwhile, a building housing the Vatican embassy in Damascus was hit by a mortar round early on Tuesday in the latest in a series of attacks on foreign missions in the city. No casualties were reported. Last month, four people were killed in a mortar attack on the Iraqi embassy.
The UN estimates that more than two million people have fled Syria since the unrest began in March 2011 resulting in a humanitarian crisis.
Most have sought refuge in Lebanon, Jordan, Turkey, Iraq and Egypt.
More than 100,000 people are estimated to have been killed since the conflict began.