Why 'Death to America' remains Iran hardliners' slogan of choice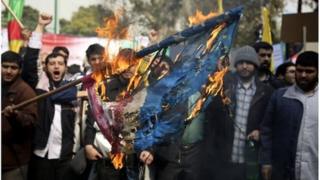 Annual anti-US rallies have been held across Iran - the first since the election of Hassan Rouhani, a proponent of a more moderate approach towards Washington after years of outright hostility.
Despite this recent "thaw", Monday's demonstrations were unprecedented in their scale and scope - and not without good reason.
Iran's propaganda machine had been working for weeks ahead of the ceremonies to mobilise maximum public participation.
The anniversary of the US embassy occupation in Tehran 34 years ago is taking place in unchartered territory for Iranian authorities, fresh from holding face-to-face nuclear talks with their US counterparts.
Iran's Supreme Leader Ayatollah Ali Khamenei told his supporters a day before the rallies not to undermine Iranian negotiators, while he let the audience chant "Death to America" fiercely.
Organisers and speakers of Monday's rallies have been careful to ensure that they keep a balance between their "Death to America"' chants and supporting the country's diplomatic efforts.
Walking this tightrope is unlikely to please President Rouhani, who was elected on the promise to embark on a different approach in his foreign policy, and is regarded as a relative moderate.
Suspicion and scepticism
Conscious of their lack of public support on the issue of talks with the US, hardline critics of President Rouhani have done their utmost to promote suspicion and scepticism of such talks.
They put up huge anti-US banners in the nation's capital but were forced to take them down after administration officials voiced their displeasure, saying they felt undermined.
President Rouhani thanked the Supreme Leader for keeping hardliners at bay, even though each time he lends his support to Mr Rouhani Ayatollah Khamenei also reminds his audience that he is pessimistic about the outcome of talks with the US.
How to strike an upbeat tone about the talks while giving credibility to the Supreme Leader's scepticism has proved to be a confusing task for President Rouhani.
His website reported that he told visiting MPs he was "not optimistic" about nuclear talks - only for the statement to be removed from the website a few hours later.
Hardline voices in the US pushing for further sanctions and an iron-fist approach, with repeats of the phrase "all options are on the table" have not helped win the Supreme Leader over either.
He was particularly furious over remarks by US billionaire Sheldon Adelson - a staunch supporter of Israeli Prime Minister Benjamin Netanyahu and a big donor to the Republican party - who said dropping an atom bomb in the middle of Iran's desert would ensure that they get the message.
"They should crush his mouth," declared Ayatollah Khamenei.
During President Rouhani's trip to the UN in September, he spoke by phone with US President Barack Obama.
Many Iranians were overjoyed as they felt that sanctions relief and better relations with the West was a likely prospect for the first time in many years.
Since then, critical voices from hardliners have grown louder, starting from expressions of reservation to outright criticism of the government's moderate approach.
Their response and continued insistence on keeping an antagonistic posture quickly dampened any illusion that the genie of US talks is out of the bottle - at least not yet.
"We will keep chanting 'Death to America' as we continue our engagement in negotiations," said Ahmad Khatami, an influential hardline cleric.
'Sanctions first'
With Monday's anniversary having been promoted by official bodies affiliated with hardliners, including state-run TV, Iran's political calendar has highlighted the inconsistency between the government's trust-building approach and the state's traditional anti-US template.
Iranian leaders have reason to be sceptical of talking to the US. The bitter memory of George Bush's "axis of evil" speech after Iran's help in overthrowing the Taliban in Afghanistan is still fresh and continually mentioned in order to evoke mistrust of the US.
Hardliners as well as the Supreme Leader know that President Rouhani's election is indicative of the public's mood in support of at least engagement with the US if not a fully fledged friendship.
At the same time, they are extremely conscious of not weakening Iran's nuclear leverage before extracting as many concessions from the American side as possible.
A final statement issued by Monday's rally organisers said: "Sanctions removal is our minimum demand of US leaders if there is to be any trust-building."
The main speaker at the ceremony in the capital was Saeed Jalili, Iran's former hardline chief nuclear negotiator, who came third in presidential elections. The choice of Mr Jalili was designed to deliver a clear message to the US: the genie can be put back in the bottle at any time.