Syria crisis: Is Geneva II peace conference achievable?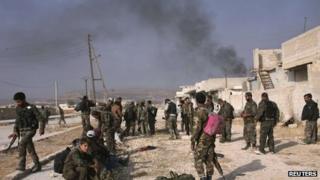 In Syria's deeply polarised politics, a date for a conference is now a litmus test of whether it's possible for warring parties to sit down and talk.
"We're certainly making progress," UN Envoy Lakhdar Brahimi told me as he left Damascus for Beirut.
The veteran Arab diplomat is coming to the end of a round of shuttle diplomacy across the region to prepare for the conference now known simply as "Geneva II".
But there was also a note of caution.
"Whether that will be enough for the conference to take place soon is not certain," he said, adding that he hoped to announce a date soon.
All eyes are on a planned date of 23 November, and many are sceptical. Now there's talk of a new date in December, possibly even January.
"The date is not important," another senior UN official remarked. "What matters are the preparations and the underlying goal of a political process."
'Horrible situation'
But the date for Geneva II has slipped so many times that it's now a symbol of the impossibility of getting all parties in a brutal conflict to the negotiating table.
I asked Mr Brahimi what gave him any hope.
"I think people realise more and more there is no military solution, and they don't see any way out of this horrible situation except through Geneva," he answered.
Talk to Syrians far from the political fray and there's a growing fear that this "horrible situation" will drag on, and get worse.
Getting to Geneva is turning out to be far harder than many had feared.
The journey began last May when Moscow and Washington suddenly found enough common ground to announce a conference would be held.
US Secretary of State John Kerry said he and his Russian counterpart Sergei Lavrov had agreed "as soon as is practicable, possibly and hopefully by the end of this month to seek to convene an international conference".
That burst of optimism turns out to have underestimated the enormity of the tasks ahead.
More than six months on, Mr Brahimi said there were still many obstacles, including that "the opposition was still trying to put together its ideas."
He also diplomatically noted there was "a little bit more work to do" regarding who would attend.
There's very public wrangling among the deeply divided opposition over who should sit at the table.
The Russians have been saying they would like the National Co-ordination Committee, largely based inside Syria, as well as Kurdish delegates, to attend.
But the main opposition grouping, the National Coalition for Syrian Revolution and Democratic forces, wants one delegation - under its umbrella.
Then there are the opposition commanders on the ground who declare that going to Geneva amounts to treachery.
And the more extreme Islamist forces want nothing to do with dialogue of any kind.
Compromise formula?
The disarray on that side of the table only strengthens the position of those on the other side.
"We are ready to go on the 23rd (November)," asserts Syrian Deputy Foreign Minister Faisal Mekdad. "We are ready to go any minute."
I pointed out to Mr Mekdad that the Geneva communique - which guided this conference - talked about "transition."
For the opposition and their backers, that means President Bashar al-Assad must stand down. For many, it's a pre-condition for participation.
"This is the issue that should be left to the Syrian people to decide," Mr Mekdad asserted. "It should never be on the table because the issue is not a matter of leadership, it is a matter of terrorism and killing the Syrian people. "
Sources say the US and Russia also don't agree on the conference choreography.
Washington wants President Assad's eventual departure to be clear before it starts, while Moscow has always insisted this is a matter for Syrians - once they get to the table.
So the UN does what it can to prepare, come what may.
Mr Brahimi has come up with a possible format. After a first opening day, the second would see only Syrian representatives at the table with Mr Brahimi remaining as a mediator.
"Key players such as the United States and Russia would still be close by to help when needed," one source explained.
The formula follows a similar approach used by Mr Brahimi when he presided over the Bonn talks in late 2001 when Afghan delegates selected a transitional post-Taliban government.
In the case of Syria, not only is war still raging, there is also no agreement on which outside players - backing rival sides - should be invited.
Mr Brahimi's remarks (after his recent meetings in Tehran) that Iran should take part was condemned by some in the opposition.
As the process drags on, some argue better for Geneva II to wait until there's a chance of even very limited success lest a complete failure be seized upon by hardliners on all sides and cause even greater anxiety among a war-weary people.
Others say the priority is to just get the process started, even if discussions don't focus on the approach set out in the Geneva communique .
"Just getting all sides to sit in one room and talk is what matters now," said one UN official.
Even entering that room would be a major step forward. But no-one has any illusions about how far the process would still have to go to achieve what matters most of all - ending a brutal war.