Gaza gears up for anti-Hamas Tamarod protest group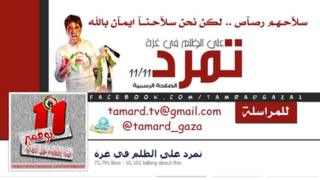 The Islamist Hamas government in the Gaza Strip is already feeling the strain after its allies in the Muslim Brotherhood were ousted from power following mass rallies in neighbouring Egypt.
Now a new protest group set up by young Palestinians, called Tamarod ("Revolt"), seeks to add to the pressure.
University students were inspired by the Egyptian Tamarod movement, which was instrumental in organising street protests against the then-President Mohammed Morsi.
They are planning demonstrations in Gaza on Monday to coincide with the ninth anniversary of the death of the Palestinian President Yasser Arafat.
Yet it is unclear how much public support they will garner.
"We were able to collect 45,000 signatures in support of a campaign to rebel against the rule of Hamas on 11/11," says one of the founders of the group, who has been arrested several times by Hamas security forces.
He did not want to be named for reasons of safety.
"Our plan is to hold a peaceful demonstration to ask the Hamas government to resign and call for elections".
'Abandoned goals'
The idea carries heavy risks.
"We have information that Hamas security forces received orders to use force against our rebels but this won't deter us," the Tamarod member adds.
More than 70,000 people have "liked" the Tamarod Gaza Facebook page, which publishes daily updates criticising Hamas.
The group claims that Hamas has abandoned its goal of armed resistance against Israel since taking over Gaza by force when it routed Fatah rivals in 2007, the year after Hamas won Palestinian general elections.
Tamarod also argues that the Hamas security agency has repressed and intimidated Palestinians.
On Facebook, it accuses the Hamas government of failing "to provide a decent life" by imposing heavy taxes on residents exhausted by Israel's blockade that was tightened after it came to power.
Israel says its measures are for security reasons, while human rights groups have said it amounts to collective punishment.
Despite a groundswell of "virtual" support for Tamarod, Hamas officials dismiss the movement is illusory.
"The rebel movement is fake and only exists through the virtual world of the Internet. There is no activity on the ground," says Islam Shahwan, a spokesman for the Interior Ministry in Gaza.
"We will assess the security situation if protests erupt in the Gaza Strip on 11 November."
Activists arrested
Youssef Rizqa, a political adviser to the Hamas prime minister, said Hamas was "not concerned about the threat to hold 11 November protests. The relevant authorities will deal with any request for a demonstration in accordance with the law".
However there are signs that Hamas police are taking steps to quash any demonstrations in advance. Already dozens of Tamarod activists have been arrested and nighttime security checkpoints are back on streets.
"Hamas deals with the situation in a very aggressive way," says Fathi Sabah, Director of the Palestinian Institute for Communication and Development.
Evenso, Mr Sabah believes that Tamarod does not have enough momentum to effect change in Gaza.
"The situation here is different from Egypt. So far the group was unable to attract prominent figures in the community," he says.
Hamas accuses its rival political faction, Fatah - which dominates the Palestinian Authority (PA) controlling parts of the West Bank - and members of the PA intelligence services of funding and managing Tamarod. Fatah denies involvement.
Previous attempts to stage mass demonstrations in Gaza have failed to take off.
Hamas was able to contain planned protests on 15 March 2010 with little violence and no casualties.
"Hamas has a very strong military wing and a big security agency that can rein in any action against them," says Adnan Abu Amer, a political analyst.
"Recent displays on the streets organised by Hamas's armed forces were meant to send a message to the Tamarod campaign."
Whether the Palestinian Tamarod will take heed remains to be seen.