Israel-Gaza violence flares over tunnel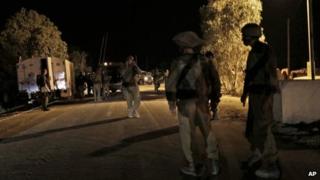 Four Palestinian militants have been killed and five Israeli soldiers injured in violence in the Gaza Strip, Israeli and Palestinian sources say.
The soldiers were wounded when they were hit by a bomb as they were destroying a tunnel found last month running from Gaza to Israel.
A militant died when troops returned fire. Three more were killed in an Israeli air strike, Palestinians said.
The flare-up is one of the bloodiest between Israel and Gaza for months.
The Israeli military said the soldiers were detonating part of the tunnel on Thursday night when militants blew up an explosive device, causing casualties.
One of the soldiers was seriously hurt, officials said.
Troops "opened fire and directly hit a terrorist", the military said in statement. The incident happened near the central town of Khan Younis.
"This mission [to dismantle the tunnel] was imperative due to the potential to utilise the terror tunnel for future attacks against Israeli civilians," Israel Defence Forces spokesman Lt Col Peter Lerner said.
Hours later, Israeli aircraft struck another tunnel in the south of the strip. Reuters news agency quoted a Hamas source as saying three of its members who were inside the tunnel at the time were killed.
Hamas, the Islamist movement which governs the Gaza Strip, said all four militants belonged to its armed wing, the Izz al-Din Qassam Brigades.
Hamas spokesman Sami Abu Zuhri "blessed" the attack on the troops, saying it taught Israel a "painful lesson", the Associated Press reported.
"Gaza will be the land of hell'' for Israel, Mr Abu Zuhri said.
Last month, the Izz al-Din Qassam Brigades said it had dug the 1.7km (one mile) tunnel, which started in Abasan and reached close to kibbutz Ein Hashlosha in Israel. It is believed militants planned to use it to carry out a surprise attack.
A similar tunnel was used in an attack in 2006 in which two Israeli soldiers were killed and a third, Gilad Shalit, was kidnapped and held in Gaza for more than five years.