Palestinian 'killed in West Bank clashes'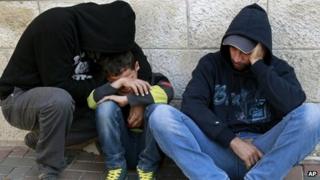 A Palestinian has been shot dead during clashes after Israeli forces mounted an arrest raid in the northern West Bank, Palestinian sources say.
Medics said Ahmed Imad Tazaza, 22, was killed in the confrontation in Qabatiya. The Israeli military said it was looking into the reports.
Dozens of Palestinians had thrown rocks at the troops, who opened fire, Palestinian and Israeli sources said.
Several Palestinians have been killed in such clashes in recent weeks.
In August, three Palestinians were shot dead in clashes that erupted when Israeli troops tried to detain a suspect in the Qalandiya refugee camp.
Days earlier a Palestinian was killed in a shootout with Israeli troops on a raid to arrest a militant in Jenin.
In Thursday's incident, the Israeli military said its forces used "anti-riot methods" when about 50 Palestinians attacked them, AFP news agency reported.
It said it had arrested four people.
The Palestinian president's office denounced Tazaza's death as a "cold-blooded killing", the official Palestinian news agency, Wafa, said.
Update 8 November 2013: Since this story was published, the IDF investigation has concluded that it was "extremely unlikely" Ahmed Imad Tazaza was killed by Israeli troops. The investigation found that official Palestinian reports said Tazaza arrived at hospital between 03:00 and 04:00, at least more than an hour before shots "in the air" were fired by the IDF.