Hundreds of Syrian refugees 'denied entry into Jordan'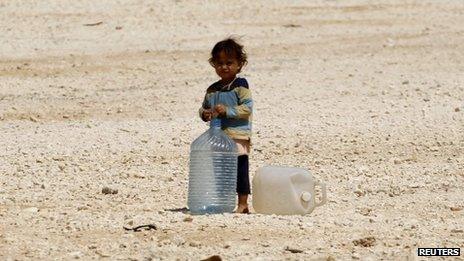 Hundreds of people fleeing the civil war in Syria are being turned back at the border with Jordan and neighbouring countries, says Amnesty International.
Those being denied entry include Palestinian and Iraqi refugees who have been living in Syria, and those without identity documents, its report says.
Amnesty says the situation is "unacceptable".
However, the Jordanian authorities maintain that they have kept their borders open for Syrian refugees.
Jordanian government spokesman Dr Mohammed al-Momani told the BBC that there was "no change of Jordan's position regarding refugees".
"Refugees that reach our borders are allowed in, in accordance with international law and Jordan's historical position of providing safety to those who seek it," he said.
More than two million refugees have now fled Syria resulting in a humanitarian crisis.
Most have found refuge in Lebanon, Jordan, Turkey, Iraq and Egypt.
The BBC's Yolande Knell says the research highlights how fighting combined with Jordanian restrictions have indefinitely trapped thousands of displaced Syrians in the border area.
"People fleeing Syria to Jordan and other countries in the region are being hampered by tightening border restrictions. Many of them have already lost everything," said Philip Luther, AI's Middle East and North Africa director.
Those being turned away also include unaccompanied men with no demonstrable family ties in Jordan, AI says.
Amnesty says that in the past year, dozens of refugees allowed into Jordan have also been deported to Syria.
In August 2012, it says some 200 refugees were forcibly returned to Syria after protests broke out at the Zaatari refugee camp.
AI says it has obtained information which indicates that scores of other individuals have since been sent back to Syria.
The human rights group is calling for refugees to be able to cross borders freely - but says more international support is needed to help Syria's neighbours deal with the continuing influx.
The UN's $4.4bn (£2.7bn) appeal for Syrian refugees is only 50% funded, and there has been little response to appeals for Western states to resettle Syrians.
Unrest in Syria began in March 2011, developing into a conflict in which more than 100,000 people are estimated to have been killed.
Related Internet Links
The BBC is not responsible for the content of external sites.