Salafists 'killed in rocket attack on Yemen mosque'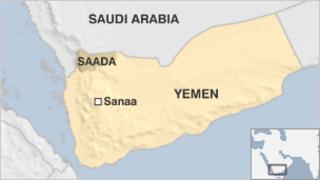 At least four people have been killed and several others wounded in an attack on a mosque in a Salafist-controlled town in northern Yemen, reports say.
Local Sunni leaders said Zaidi Shia rebels, known as Houthis, had fired rockets at a mosque in Dammaj, in Saada province, during midday prayers.
The rebels had besieged the town for weeks, demanding the departure of foreign religious students, they added.
Dammaj has seen frequent clashes between Houthis and Salafist students.
Dozens of students were killed during a two-month siege in 2011.
The Dar al-Hadith religious institute in the Dammaj is the biggest of its kind in Yemen, with an estimated 7,000 students of various nationalities. Its current head is Sheikh Yahia al-Hajouri.
The Houthis, who draw their name from their late leader, control Saada province and are deeply wary of Salafists, who consider Shia as heretics. Some Sunnis fear the Houthis want to revive the Zaidi imamate which ruled Yemen for more than 1,000 years.
Thousands of people have been killed since the Houthis launched a rebellion against the central government in 2004.
The group has not commented on Wednesday's attack.
A spokesman for the Salafists, Abu Ismail al-Hajouri, told the Reuters news agency that efforts by a presidential committee to end the siege of Dammaj had failed.
However, a committee member said: "We have made an agreement whereby the army will be stationed in the mountains next to Dammaj in return for the Houthis' withdrawal."