Egypt detains Muslim Brotherhood leader Essam al-Erian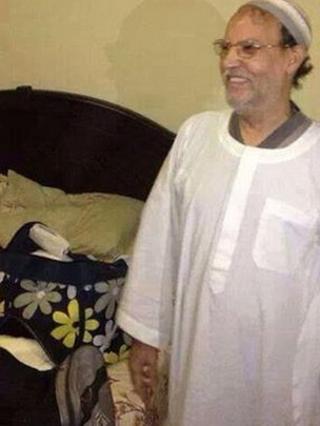 A fugitive senior Muslim Brotherhood leader, Essam al-Erian, has been detained by the Egyptian authorities.
Prosecutors ordered Mr Erian's arrest in July, after the military ousted President Mohammed Morsi.
The arrest is the latest move in a crackdown by the interim government against the Islamist movement.
The state-run news agency Mena reported that Mr Erian was expected to stand trial next week along with Mr Morsi and a dozen other officials.
A Muslim Brotherhood spokesman told the BBC Mr Erian was arrested early on Wednesday at an apartment in the New Cairo area and taken to an undisclosed location.
"You can't escape your destiny," Mr Erian was quoted as saying at the time.
"I am confident I will be out of prison after putting an end to the coup."
An official photo posted on the interior ministry website showed a smiling Mr Erian standing next to two packed bags.
Mr Erian is vice chairman of the Freedom and Justice Party (FJP), the Brotherhood's political wing.
The BBC's Orla Guerin in Cairo says that before going into hiding, Mr Erian was a very public face of the Muslim Brotherhood.
Judges step down
Mr Morsi is due to stand trial on 4 November, charged with inciting murder and violence in connection with clashes outside a presidential palace in Cairo in December 2012.
The former president's supporters announced on Monday that he had rejected the court's authority.
Separately, the three presiding judges at the trial of Mohammed Badie, the Brotherhood's general guide, and his deputy, Khairat al-Shatir, stepped down on Tuesday, halting proceedings.
Judge Mohammed Fahmy al-Qarmuty said he and his colleagues were retiring from the case for "reasons of conscience".
Mr Badie was a prominent figure at the Brotherhood's protest camps in Cairo, but went into hiding as the military-backed interim government increased its efforts to end the protests. He was arrested in August.
Mr Badie and Mr Shatir face charges of inciting violence and murder over the deaths of anti-Brotherhood protesters outside the movement's headquarters in Cairo on 30 June.