Profiles: Palestinian prisoners released by Israel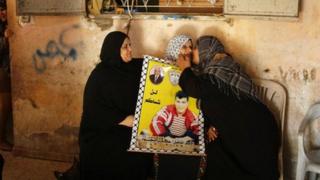 Israel has published the names of 26 long-term Palestinian prisoners released on 30 October as part of a US-brokered deal to pave the way for the resumption of peace talks between Israel and the Palestinian Authority.
All but one were imprisoned for murders committed before the signing of the 1993 Oslo Peace Accords. This is the second of four batches to be freed.
The list was published 48 hours before the releases, to allow victims' families to appeal to the Israeli Supreme Court against the freeing.
Below are profiles of the better known prisoners freed.
Isa Abed Rabbo from Bethlehem is the longest serving prisoner on the list, having been convicted of murdering 23-year-old students Revital Seri and Ron Levy while they were hiking near the Cremisan monastery, south of Jerusalem, in October 1984.
Ahmad Damuni was convicted of involvement in the lynching of IDF reservist Amnon Pomerantz in Gaza in 1990. Pomerantz was on his way to his military base in the Gaza Strip but he mistakenly reached the Al-Bureij refugee camp, where he was lynched by a group of Palestinians.
Mustafa and Ziad Ghanimat from Hebron were convicted of murdering Meir Ben Yair and Michal Cohen in July 1985 while they were sitting in their car in Mesua Forest near the town of Beit-Shemesh.
Hazza Yusef and OthmanBani Hasan were imprisoned in July 1985 for murdering 19-year-old Leah Almakais and 35-year-old teacher Yosef Eliyahu.
Mohamed Ashur from Ramallah was sentenced to a 30-year jail term for murdering Israeli taxi driver David Caspi on 9 April 1985. Caspi's widow, Esther, told the Israeli newspaper Yediot Aharonot about her objection to Ashur's release: "We shouldn't release prisoners who have committed murder because they will do it again. It will lead to further acts of murder. I don't understand why they are releasing them as there is no one [for Israel] to talk to on the other side."
Rahman Abdel Haj killed 42-year-old Genia Friedman in February 1992 as she was walking with her father in Kfar Saba. Her father and two bystanders were also stabbed in the attack.
Sharif Abu Dahila, a member of Fatah, was convicted of murdering his employer Avi Osher, in a Jordan valley date orchard where Abu Dahila was working, on 28 June 1991. He has been serving a life sentence since May 1992.
The other prisoners on the list - as named by the Israel Prison Service - are Mohamed Naser; Rafi Karradjah; Mohamed Sabbagh; Hazem Shabir; Hilmi Amawi; Yusef Masalhah; Rizk Salih; Shakir al-Afu; Muayyad Hajjah; Najih Badawi; Abdul Rahman Abdul Hajj; Shakir Afuw; Musa Karaan; Osama Abu Hananah; Mohamed Turkman; Ahmad Abdul Aziz; Omar Masood.
BBC Monitoring reports and analyses news from TV, radio, web and print media around the world. For more reports from BBC Monitoring, click here. You can follow BBC Monitoring on Twitter and Facebook.